Children's Miracle Network Hospitals' Festival of Lights 5K
San Marco Square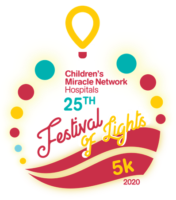 Saturday, December 5, 2020
1 Mile waves start at 5:30 PM | 5K waves start at 6 p.m.
---
About This Race
Sixty-two children enter a Children's Miracle Network Hospital for treatment every minute. Whether they suffer from common childhood afflictions like asthma and broken bones, or fight bigger challenges like birth defects or cancer, Children's Miracle Network Hospitals provide comfort, treatment and hope to millions of sick kids.
Children's Miracle Network Hospitals of Jacksonville is dedicated to improving the health and welfare of kids in North Florida and South Georgia by increasing funds and awareness for UF Health Jacksonville and Wolfson Children's Hospital. By supporting this race you are helping provide much-needed funding for the purchase of life-saving medical equipment, educational resources and Child Life supplies. Consider running today and help make miracles possible for local children.
Funds raised in North Florida and South Georgia stay local.
Charities
We hope you will join us for Jacksonville's largest holiday celebration! The Festival of Lights 5K will be held the same evening as San Marco's Holiday Magic. The 5K and 1 Mile will both start and finish on San Marco Blvd. in the Square. This event will feature:
Course will be totally lit with luminaries
Finisher Medals 
Santa Clause will be present
Horse Drawn Sleigh Rides
Toy Soldier Stilt Walker
The Grinch
Free Chocolate
Snow Machines
Lots of Christmas Music
Jingle Bells for your Shoes
Awards for best stroller decoration
Entry Fees
| | 5K | 1 Mile Fun Run |
| --- | --- | --- |
| Through November 28th | $30 | $15 |
| November 29th - December 3rd | $35 | $15 |
| No Day of Race Registration | | |
Wave Start
Waves will start in groups of 200. Start groups will be socially separated, 10 participants wide. 10 runners are started every five seconds. Each wave will be started in two minute intervals.  We will assign you to a wave after you register.
Social Distancing Guidelines
Due to the current Covid crisis race entries will be limited and social distancing guidelines will be in place.
The following Social Distancing Guidelines will be in place during the event.
No day of race registration.
Day of race packet pickup will be limited. Please adhere to the six foot spacing guideline and wear a mask when picking up your packet. We encourage you to pick up your packet prior to race day.
Please wear a mask when you can not adhere to the 6 foot spacing guideline.  Masks are required at the start and finish.
Race will be started in waves of  200 people.  You must choose your starting wave during registration. Potential award winners should try to run in the early starting waves.
Once you have finished the race please respect the 6 foot social distancing spacing and wear a face covering.
The race will not have an awards ceremony or post-race celebration.  Awards may be picked up at awards tent on race day or a 1st Place Sports, Baymeadows the day after the race.
Bring you own water if you want to be extra safe. We will have water is sealed bottles at the start, on the course and at the finish.   If you take a water bottle on the course, be sure to hold on to it until you finish the race or drop off in trash cans at designated drop location.
Hand sanitizers and masks will be available at the Sanitation tent near the start/finish.
If you feel ill or have a fever, do not come to packet pickup or to the race.
To maximize social distance we recommend that you not arrive at the race more than 30 minutes prior to your start time.
Packet Pickup
Packet Pickup Schedule
Masks are required during packet pickup.  Please try to pick up before race day to eliminate long lines
Packets will be available as follows:
Thursday, December 3rd – 10 AM until 6 PM – 1st Place Sports, 3931 Baymeadows Road
The parking is much easier at Baymeadows so we encourage you to pick up at this location.
Friday, December 4th – 10 AM until 6 PM – 1st Place Sports, 2018 San Marco Blvd. San Marco Square
Saturday, December 5th  – 4 PM until race start  (please try not to pick up on race day if at all possible)
Awards
Custom medals will be awarded to all finishers!
Awards will be presented to the top three men and women overall, the first masters male and female, and three deep in the following male and female age groups: 10 and under, 11-13, 14-19, 20-24, 25-29, 30-34, 35-39, 40-44, 45-49, 50-54, 55-59, 60-64, 65-69, 70-74, 75- 79, and 80+. The awards ceremony will be held in San Marco Square at 7:15 PM. Awards not picked up at the ceremony can be picked up at 1st Place Sports the week after the race.
Course
The 5K and One Mile Fun Run will start on San Marco Blvd., in San Marco Square, south of Interstate 95. The 1 Mile Fun Run will also start on San Marco Blvd and finish at the 5K finish area.
1 Mile Fun Run
Medals will be given to all children 13 and under in the one mile fun run. There will also be a Kid's area with many activities.
Luminary Lit Route
The race will be held at night, and the entire 5K course will be lined with luminaries. There will be a water station at the half way point. All miles and turns will be marked. Digital clocks will be located at each mile.