1st Place Sports is proud to be recognized as Jacksonville's running headquarters and one of the top running stores in the nation.
Whether you are looking to purchase a new pair of running shoes, try on the latest running apparel, check out all of our running accessories, or enter your next race, give us a try! We have been serving the Northeast Florida running community for over 40 years!
We welcome runners, walkers and fitness enthusiasts of all abilities to come and experience our one-on-one fit process! This fit process helps you find the perfect shoe to meet the needs of your active lifestyle. Whether you run, walk, go to the gym or just need a comfortable pair of shoes, our expert staff are here to help find the best fit for you!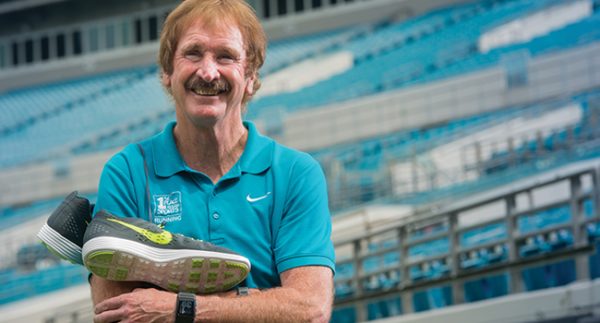 Where It All Began
Doug Alred, owner and founder of 1st Place Sports, was inspired to become a runner when he learned of a new race about to make its debut: The River Run 15,000. He was a rather out-of-shape certified public accountant at the time, but after completing that 1978 race he never looked back. He ran in every race he could find, joined the young Jacksonville Track Club, became one of its board members (where he has remained ever since) and in 1978 opened a running store that he named 1st Place Sports.
In order to help promote his new store he began organizing races. In 1982 he was injured and he knew he would be unable to run in the 1983 River Run, so he offered to be its race director. The race was such a success that other races came to him for advice and direction. Since then, Doug has become one of the most active race directors in the country, conducting more than 90 races a year, and now, with his wife Jane, owns five 1st Place Sports Stores in Northeast Florida.
Doug, an accomplished runner himself with a marathon personal record of 2:29:29, has tirelessly committed himself to the development of running for more than 35 years. His efforts paid off when Runner's World magazine recognized Jacksonville as one of the 'Top Ten Best Running Cities In America'. For several years, Competitor Magazine has honored 1st Place Sports with its award "Top 50 Running Stores In America."