EverGreen Pumpkin Run
EverGreen Cemetery
Evergreen Cemetery Association, Main Street North, Jacksonville, FL, United States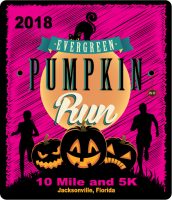 Sunday, October 28, 2018
10 Mile and 5K at 8:00 AM
---
About this Race
This is the only race in Jacksonville that sells out each year so sign up soon to reserve your spot.
Race Details
» Finisher Medals to both 10 Mile and 5K participants
» Pumpkins line the course
» Take a pumpkin home after the race
HALLOWEEN COSTUME CONTEST
A $50.00 1st Place Sports gift card will be given to the runners wearing the best costume in the following divisions: Scariest Costume, Funniest Costume, and Best Overall Costume.
Entry Fees
| | 5K | 10 Mile |
| --- | --- | --- |
| Through October 20th | $25 | $30 |
| October 21st - October 27th | $30 | $35 |
| Race Day | $35 | $40 |
Sorry, there are absolutely no refunds!
Discounted Entry:
» 1st Place Club VIP members may deduct $1.00 from above rates. Must sign up in store.
Friend Get Friend $5.00 Refund Program
When you register online you will receive a unique code in your confirmation email. Pass that code along to friends and tell them to use the code when registering and you will receive a $5 refund each time someone registers using your code.  You can have your full entry fee refunded using this program. Invite your friends now!
Register Now!
Online:
» Click Here to Register Online
Online registration closes early. After online registration closes, you can still register in any 1st Place Sports store or on Race day.
In person:
You can register at any of our 1st Place Sports stores on our instore computers with no processing fee.
Packet Pickup
Packets will be available for pick up at your selected 1st Place Sports locations on Friday, October 26th and Saturday, October 27th from 10:00 AM – 6:00 PM. All packets will be moved to the race site for raceday pick up beginning an hour before the race.
Baymeadows Store: 3931 Baymeadows Road, Jax, FL 32217
San Marco Store: 2018 San Marco Blvd., Jax, FL 32207
Tapestry Park Store: 9823 Tapestry Park Circle, Jax, FL 32246
Jax Beach Store: 424 S. 3rd Street, Jax Beach, FL 32250
Orange Park Store: 2186 Park Avenue, Orange Park, FL 32073
Awards
10 Mile
Prize Money: Prize money will be awarded to the top three men and women overall as follows: 1st Place $200, 2nd Place $150, 3rd Place $100, 1st Masters $50. Masters can double dip if they finish in the top three overall.
Age Group Awards: Age group awards will be presented to the top three finishers in each of the following male and female age groups as follows: 19 and under, 20-24. 25-29, 30-34, 35-39, 40-44, 45-49, 50-54, 55-59, 60-64, 65-69, 70-74, 75-79, 80+.
5K
Awards will be presented to the top male and female overall and to the top three finishers in each of the above age groups, plus 10 and under and 11-13.
Finisher Medals:
Finisher medals will be given to 10 Mile and 5K participants!
Race Shirt
Participants will receive technical race shirts for this event.
Course
10 MILE COURSE
The part of the course inside the cemetery is lined with pumpkins. The course runs through stately oak and magnolia trees and is about 90 percent shaded. All miles and turns will be marked, with digital clocks at most miles.

5K COURSE
The entire 5K course is lined with pumpkins and runs through stately oak and magnolia trees which makes it about 90% shaded. All miles and turns will be marked, with digital clocks at most miles.

Parking
Parking is available inside the cemetery and outside the cemetery! The 10 mile and 5K courses have been redone to allow runners to park inside the cemetery and sill be able to leave during the race.
POST RACE CELEBRATION
Free food and drink will be served after the race. You are welcome to take pumpkins home with you after the ten mile race has finished. Please do not take a pumpkin until the race is over! Only one pumpkin per person!
Grand Prix Race
This race is part of the 2018-2019 Jacksonville Grand Prix schedule. Runners who finish in the top ten of their age group will receive points to be counted in the overall series. Over $5,000 in cash and prizes will be awarded at the end of the series. For more information about the Grand Prix, click here.