Run for the Pies
Hemming Park in the Center of Downtown Jacksonville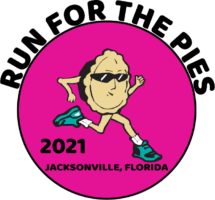 Saturday, June 12, 2021
Championship 5K at 7:00 PM | Open 5K at 7:30 PM
---
About This Race
» Prize Money!
» Large Custom Finisher Medals!
» Technical Tank Tops!
» Win a Pie!
To Benefit
Funds go to support high school cross country and track programs in Duval county and the summer camp scholarship program.
Schedule of Events
7:00 PM……..Championship 5K
7:30 PM……..Open 5K
8:15 PM……..Pick up awards at awards tent
We will not have a post-race celebration for this event.
Entry Fees
| | 5K | 5K Children 13 and Under/Adults 65 and over |
| --- | --- | --- |
| Through April 30th | $35 | $20 |
| May 1st - May 31st | $40 | $25 |
| June 1st - June 11th | $45 | $30 |
| Day of Race | $50 | $35 |
Entry fee includes a technical tank top and entry into the gigantic give-away!
Sorry there are no refunds or race transfers!
Register Now!
Online:
» Click Here to Register Online
Online registration closes the day prior to the beginning of packet pickup. After online registration closes, you can still register in any 1st Place Sports store or on Race day.
In Store:
You can register at any of our 1st Place Sports stores on our in-store computers! This will save you up to $3 in server and credit card fees.
Virtual Option:
If you are unable to attend in person, you can run the race virtually.
Click here to sign up to run virtually
Championship 5K
The Championship 5K starts at 7:00 PM on Monroe Street near the corner of Laura Street at Hemming Park. You can run in the championship race if you have run under 17:00 (men) and 20:00 (women) in a 5K within the last year. Running shoes will be given to each male who breaks 16:15 and to each female who breaks 19:00. You must run in the championship race to qualify for these prizes. The course is 5 loops and is ideal for spectating.
» View the Championship 5K Course
ChampionShip Race Awards
Cash prizes will be given out to the top three Overall Male/Female winners as follows:
1st Place: $250
2nd Place: $150
3rd Place: $100
There is an Equalizer Bonus of $100. The Championship Women will have a two and a half minute head start.
The Open 5K
The Open 5K is for all runners and walkers except those who run in the Championship race. The 5K Open course will start and finish on Monroe Street at Hemming Park. Custom designed medals will be given to all finishers, awards will be presented to the top three finishers in each age group (See Open Race Awards), and pies will be given out at the finish line to males under 20:00 and females under 24:00.
How you can win a pie!
Apple pies will be given at the finish based on the following times. Men must break 20 minutes (gun time) and women must break 24:00 minutes (gun time) to qualify.
Packet Pickup
Packets will be available on Thursday, June 10th from 10:00 am – 6:00 pm and Friday, June 11th from 10:00 AM until 5:00 PM at the following 1st Place Sports locations. Packets will be moved to the starting line for Race Day pick up beginning two hours before the start.
| | |
| --- | --- |
| Baymeadows Store: | 3931 Baymeadows Road, Jax, FL 32217 |
| San Marco Store: | 2018 San Marco Blvd., Jax, FL 32207 |
| Tapestry Park Store: | 9823 Tapestry Park Circle, Jax, FL 32246 |
| Jax Beach Store: | 424 S. 3rd Street, Jax Beach, FL 32250 |
| 210 Store | 2220 Country Rd 210, St Johns, FL 32259 |
| | |
Race Timing
The race will be timed using the Race Result Timing System. You must cross the timing mats at the finish to be included in the results.
Awards
OPEN RACE AWARDS
Awards will be given to the top three finishers in each of the following male and female age groups: 10 and under, 11-13, 14-19, 20- 24, 25-29, 30-34, 35-39, 40-44, 45-49, 50-54, 55- 59, 60-64, 65-69, 70-74, 75-79 & 80 and over.
Post Race Celebration
We will not have a post-race celebration this year.
Gigantic Giveaway
The Gigantic Giveaway will not be held this year.
Parking
There are a large number of parking garages and lots, which charge for parking around Hemming Park, however on-street parking is free on weekends.
Jacksonville Grand Prix Race
This event is the final event of the 2020-2021 Jacksonville Grand Prix schedule. Runners who finish in the top ten of their age group will receive points to be counted in the overall series. Over $5,000 in cash and prizes will be awarded at the end of the series. For more information about the Grand Prix, click here.