San Marco Wine and Chocolate Run
2018 San Marco Blvd, Jacksonville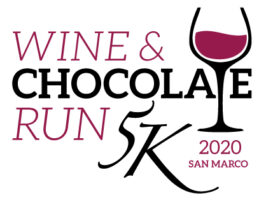 Sunday, October 11, 2020
5K waves start at 5:00 PM
---
Race Results
This race has ended. Check back soon for race results. 2020
About this Race
The Wine and Chocolate Run has been rescheduled from its original April date.  If you signed up for the April event, you are automatically entered in the October 11th event, but you must go back to the registration page and use the link to select a starting wave.  You will have to go though the registration questions again, but you will not be charged at checkout.
Custom designed wine glass to all finishers!
Technical shirts to all participants!
Wave Starts!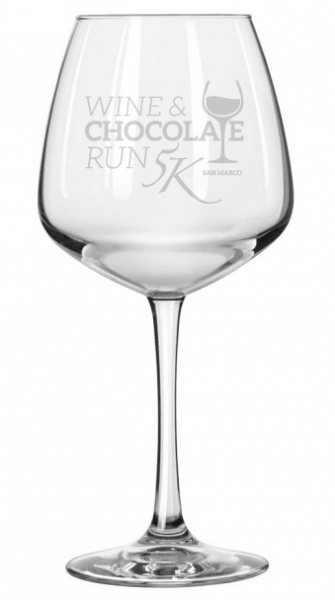 Virtual Option
We will also offer a virtual option for this event.  You can sign up at the link below.
How the Virtual Option works.
One you sign up, just run the 5K distance, send your results to results@1stplacesports.com, and then you can pick up your shirt and wine glass at your selected 1st Place Sports location starting October 12th. Unfortunately, we can not mail the wine glasses, but shirts can be mailed to out-of-town virtual option participants.
Social Distancing Guidelines
Due to the current Covid crisis race entries will be limited and social distancing guidelines will be in place.  We also have a virtual option if  you do not want to attend.
Race participation is limited and will be run in waves!
There will waves of up to 200 people starting every two minutes starting from two (side by side) starting lines beginning at 5 PM.  See wave information below.
The following Social Distancing Guidelines will be in place during the event.
No day of race registration.
Day of race packet pickup will be limited. Please adhere to the 6 foot spacing guideline and wear a mask when picking up your packet.  We encourage you to pick up your packet prior to race day.
Please wear a mask when you can not adhere to the 6 foot spacing guideline.  We encourage everyone to wear a mask until you have started the run/walk.
Race will be started in waves of 200 people.  You must choose your starting wave during registration. Potential award winners should try to run in the early starting waves.
Once you have finished the race please respect the 6 foot social distancing spacing and wear a face covering.
The race will not have an awards ceremony or post-race celebration.  Awards may be picked up at awards tent on race day or a 1st Place Sports, Baymeadows the day after the race.
Bring you own water for while running if you want to be extra safe. We will have water in bottles at the start, half-way point and at the finish.  All water will be in sealed bottles.  If you take a water bottle with you, be sure to hold on to it until you finish the race or drop off in trash cans at designated drop location.
Hand sanitizers and masks will be available at the Sanitation tent near the start/finish.
If you feel ill or have a fever, do not come to packet pickup or to the race.
To maximize social distance we recommend that you not arrive at the race more than 30 minutes prior to your start time.
Post-Race
We will not be able to have a post-race ceremony this year.  However, each finisher will receive a custom designed wine glass, wrapped chocolate, and a small can of wine as they pass through the finish line.  Wine can not be opened or consumed at the race site.
We will not have an awards ceremony, but awards may be picked up at the awards tent in the park starting at 6:00 PM.
All participants must wear a mask before and after the event if unable to socially distance by six feet.
Wave Starts
Up to 200 runners/walkers will start every 2 minutes from two (side by side) starting lines beginning at 5:00 PM.
Start groups will be socially separated. 10 participants ( 5 wide on each starting line). 10 runners are started every 5 seconds. See photo below.  Each wave will be started in two minute intervals.  Please select one of the waves during registration, or if you have already registered, you will need to go to the link below and choose your starting time.
Select a starting time or register for event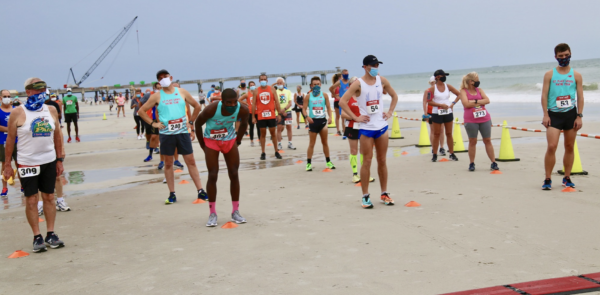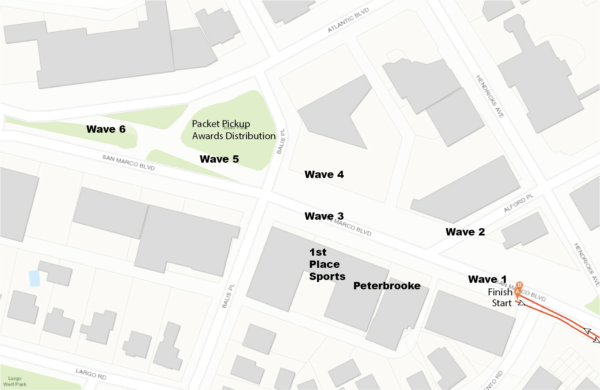 Email Communication
All communications including event promotions, bib number assignment, results problems, and runner instructions are done by email from 1st Place Sports. If you sign up for an event and do not receive an email from 1st Place Sports and want to receive them, please make sure that 1st Place Sports emails are not going to your junk mail.
Entry Fees
| | 5K |
| --- | --- |
| Through September 30th | $35 |
| October 1st - October 10th | $40 |
Entry fee includes a moisture wicking running shirt. Men's and women's sizes available.
Sorry, there are absolutely no refunds!
No race day registration!
Register Now!
We will not have race day registration for this event
Online:
» Click Here to Register Online
In person:
You can register at any of our 1st Place Sports store locations on our in-store computers.
Virtual Option
If you can't make it to the event, we do have a virtual option.
Sign up to run/walk the event virtually
Once you have registered, just run or walk the 5K distance and send us your time (you can run/walk the distance any time and any where).  If you have a GPS watch or a cell phone, take a picture of the distance and time and send to results@1stplacesports.com. Otherwise just email us your time.  Once we have your results, you can pick up your shirt and medal at 1st Place Sports, 3931 Baymeadows Road starting October 12th. Unfortunately, wine glasses can not be mailed. Good luck!
Packet Pickup
Packets will be available on Friday, October 9th  from 10 AM until 6 PM and Saturday, October 10th from 10:00 AM until 5:00 PM at your selected 1st Place Sports location. Packets will be moved to the starting line for Race Day pick up beginning at 3:30 PM. We strongly encourage you to pick up your packet prior to race day.
Race Timing
Start – We will have two starting lines on San Marco Blvd near 1st Place Sports. Each wave will be started from both startling lines.
The race will be timed using the Race Results Timing System. You must cross the timing mats at the finish to be included in the results.
Awards
Awards – top three men and women overall, first master's male and female overall, and the top three in each of the following male and female age groups: 10 & under, 11-13, 14-19, 20-24, 25-29, 30-34, 35-39, 40-44, 45-49, 50-54, 55-59, 60-64, 65-69, 70-74, 75-79, 80+.
Pick up awards at awards tent in park starting at 6:15 PM.  Results will be posted on line at 1stplacesports.com and on the 1st Place Sports app within a few minutes after you cross the finish line.
Parking
Parking will be limited so arrive in time to find a parking spot, but please to not come to the race area until about 20 minutes before your designated starting time.  Masks are required once you are in the start and finish area, but you do not have to wear a mask during the run/walk.
Jacksonville Grand Prix Race
This event is a race in the 2020-2021 Jacksonville Grand Prix schedule. Runners who finish in the top ten of their age group will receive points to be counted in the overall series. Over $5,000 in cash and prizes will be awarded at the end of the series. For more information about the Grand Prix, click here.
Course Restrictions
Bikes and dogs are not allowed on the course under any circumstance. Biking next to a runner could lead to the runner being disqualified.