Go GREEN Winter Beach Run 5 Mile
75 1st St N, Jacksonville Beach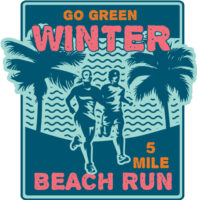 Sunday, January 30, 2022
12:00 PM
---
About this Race
The Winter Beach Run is staying GREEN!
With the help of Beaches Go Green, a local non-profit focused on environmental education, we are committed to reducing the footprint of the 2021 Winter Beach Run and we're asking you for your support!
You can help by joining us at the Going Green Winter Beach Run and support our efforts to Go GREEN. We will be providing recycling bins for every trash bin, as well as a compost bin for compostable food waste; so please put your waste in the proper bin. Proceeds from this event will be donated to Beaches Go Green to help with other local Go Green efforts.
Runners are the most health-conscious groups in the world so we should be the group most dedicated to the health of our planet. Some of the practices we're implementing this year include eliminating the following:
Single use plastic water bottles given out at the end of the race
Single use plastic bags used for goodie bags or there will not be a race packet.
Paper entry forms – please register online or at 1st Place Sports in-store kiosks
Paper results – live results will be posted online as race progresses
Some additional efforts include:
Providing aluminum water bottle with race logo to all finishers
Providing compostable and Biodegradable paper cups at water stations
Providing reusable goodie bags
Providing recycling and compost bins
Practicing conscious purchasing decisions to reduce waste as much as possible
Donating left-behind shoes & clothing
Repurposing left over food by sending excess to local homeless shelter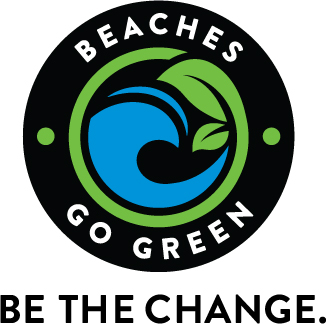 *Beaches Go Green, a non-profit based out of Jacksonville Beach, FL, aims to spread awareness and education about the waste that we produce and how it affects the environment, particularly the consumption of single use plastic. BGG's vision is that through awareness and education, people will make small "green" changes in their lives that add up to BIG things. If you are interested in getting involved or donating to support BGG's education programs, please direct inquiries to www.beachesgogreen.org
Social Distancing Guidelines
Due to the current Covid crisis race entries will be limited and social distancing guidelines will be in place.
The following Social Distancing Guidelines will be in place during the event.
No day of race registration.
Day of race packet pickup will be limited. Please adhere to the six foot spacing guideline and wear a mask when picking up your packet. We encourage you to pick up your packet prior to race day.
Please wear a mask when you can not adhere to the 6 foot spacing guideline.  Masks are required at the start and finish.
Race will be started in waves of  100 people.  You must choose your starting wave during registration. Potential award winners should try to run in the early starting waves.
Once you have finished the race please respect the 6 foot social distancing spacing and wear a face covering.
The race will not have an awards ceremony or post-race celebration.  Awards may be picked up at awards tent on race day or a 1st Place Sports, Baymeadows the day after the race.
Bring you own water if you want to be extra safe. We will have water in cups at the start and half-way point.
Hand sanitizers and masks will be available at the Sanitation tent near the start/finish.
If you feel ill or have a fever, do not come to packet pickup or to the race.
To maximize social distance we recommend that you not arrive for the race more than 30 minutes prior to your start time unless you are coming for the stretch classes.
Entry Fees
| | |
| --- | --- |
| | 5 Mile |
| Through January 23rd | $30 |
| January 24th - January 29th | $35 |
Discounted Entry:
» There is a $2.00 discount through January 23rd if you are a current JTC Running Member.
Register Now!
Online registration:
» Click Here to Register Online
Online registration closes the day prior to the beginning of packet pickup. After online registration closes, you can still register in any 1st Place Sports store or on Race day.
In person:
You can register at any of our 1st Place Sports stores on our instore computers with no processing fee!
Sorry, there are absolutely no refunds!
Wave Starts
Waves will start in groups of 100.  Start groups will be socially separated, five participants wide. 5 runners are started every 3 seconds. See photo below.  Each wave will be started in two minute intervals.  You will choose one of the waves during registration.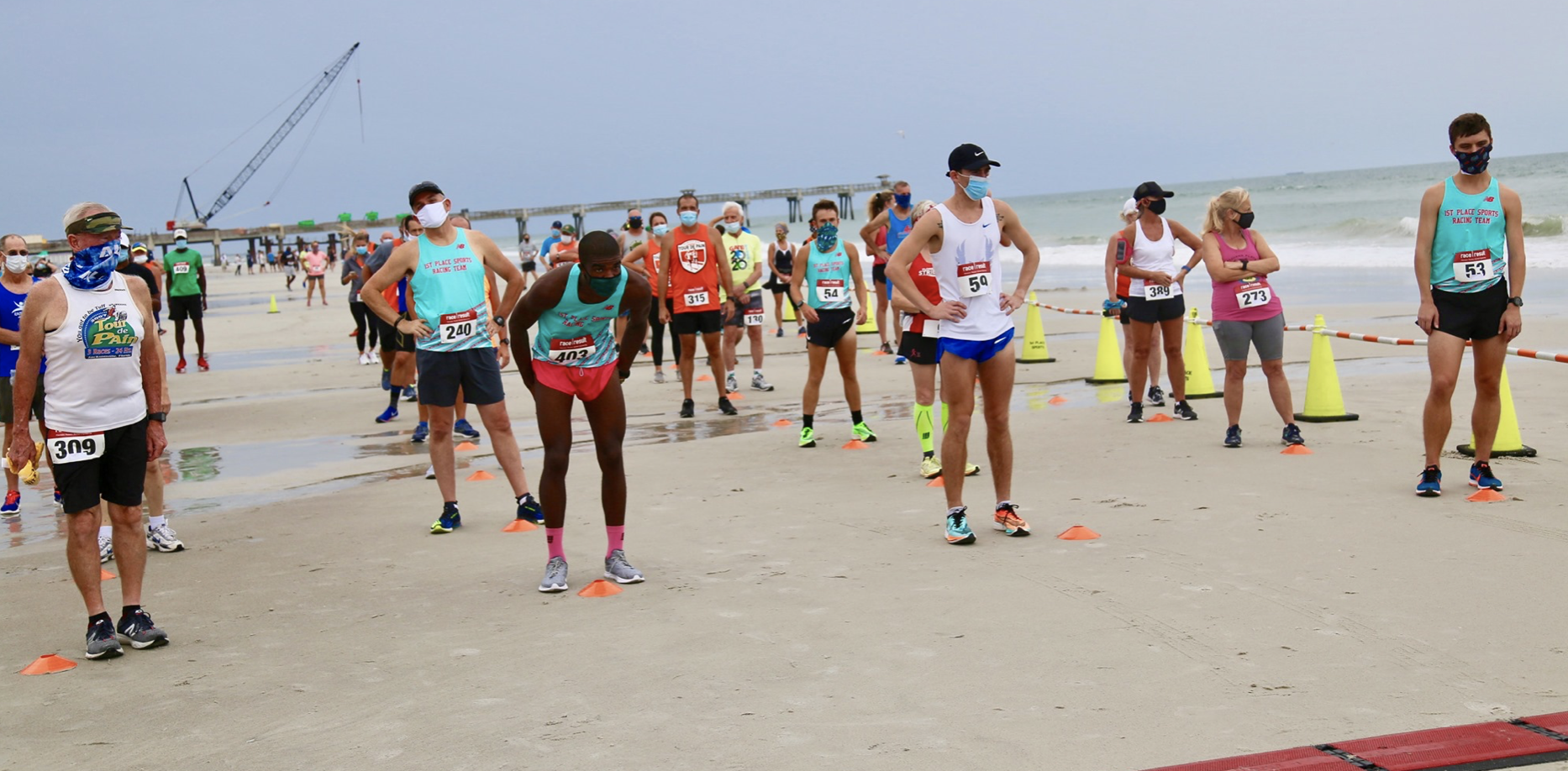 Elite Wave: 2:00 PM – Runners are expected to compete for overall and age-group awards should start in this wave.
Wave 1 – Blue – 2:02 PM
Wave 2 – Red – 2:04 PM
Wave 3 – Green – 2:06 PM
Wave 4 – Orange – 2:08 PM
Wave 5 – Yellow – 2:10 PM
Packet Pickup
Packets will be available for pick up at your selected 1st Place Sports locations on Thursday, January 28th from 10:00 am – 6:00 pm and Friday, January 29th from 10:00 AM – 5:00 PM. All packets will be moved to the race site for race day pick up beginning an hour before the race.
| | |
| --- | --- |
| Baymeadows Store: | 3931 Baymeadows Road, Jax, FL 32217 |
| San Marco Store: | 2018 San Marco Blvd., Jax, FL 32207 |
| Tapestry Park Store: | 9823 Tapestry Park Circle, Jax, FL 32246 |
| Jax Beach Store: | 424 S. 3rd Street, Jax Beach, FL 32250 |
| | |
Awards
5 Mile:
Top Awards: Awards will be presented to the Top three overall males and females and to the 1st master male and female.
Age Group Awards: Awards will be presented to the top three in each age division above including 10 and under, and 11-13.
Aluminum water bottle with race logo to all finishers
Course
The course is out-and-back on the beach at low tide. The 5 mile starts heading to the south.
Directions
The SeaWalk Pavilion is located where 1st Street North and 1st Avenue North meet in Jacksonville Beach. Take Butler Boulevard (Highway 202, Exit 344) from I-95 to A1A and then north three miles to Beach Boulevard.
Parking
Arrive early to avoid parking problems. There is a large parking lot west of the SeaWalk Pavilion. Once this lot is full, you will have to look for parking spots farther from the starting area. The later you arrive, the farther away you will have to park.
Grand Prix Race!
The Winter Beach Run 5 Mile is a race on the Jacksonville Grand Prix schedule. Runners who finish in the top ten of their age group will receive points to be counted in the overall series. Over $5,000 in cash and prizes will be awarded at the end of the series. For more information about the Grand Prix, click here.
Post Race Celebration
We will not have a post-race celebration
Restricitions
Bikes and dogs are not allowed on the course under any circumstance. Biking next to a runner could lead to the runner being disqualified.