Tour de Pain
Jacksonville Beach and Jacksonville, Florida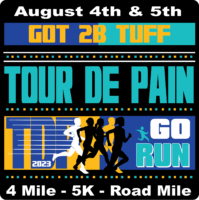 Friday, August 4, 2023
6:00 PM
---
Race Results
This race has ended. Check back soon for race results. 2023
About this Race
The Tour de Pain features 3 races in 24 hours.  You can run all three or just one or two of the races.  To qualify for the finishers medal and awards you must run all three events.
The Tour de Pain consists of the following:
First Race – 4 Mile Beach Run – Friday, August 4th – 6:00 PM – Jacksonville Beach Seawalk Pavilion
Second Race – 5K Road Race – Saturday, August 5th – 7:00 AM – Prominence Business Park
Third Race – Road mile – Saturday, August 5th – James Weldon Johnson Park – Downtown
4:30 PM – Men's Open Mile (male under 40 years of age)
4:45 PM – Men's Masters Mile (male 40 and older)
5:00 PM – Women's Open Mile 9 (female under 40 years of age)
5:15 PM – Women's Masters Mile (female 40 and older)
Race Benefits the following:
Local High School Cross Country and Track programs.
Summer Camp Scholarships for high school cross country and track athletes.
The construction and maintenance of a new three-mile running trail at Aterro Recreation Park on Sunbeam Road.
Race Features
RACE DETAILS
Finisher Medals –  if you run all three events
Post-Race Celebration after the final event
Moisture Wicking Tank Tops to all Participants
Prize Money for top finishers in Tour de Pain Series
Age-Group awards for series
Beer Garden after last event
4 Mile Beach Run
Starts at Jacksonville Beach Seawalk Pavilion
6:00 PM – start
Race starts to the south
Course is out and back  Course Map
water stations each mile
No post-race activities – some refreshments
5K 
Starts at 1st Place Sports – Prominence Business Center – Off Baymeadows Just west of Interstate 95
8900 Prominence Way    Directions
7:00 AM start
Water stations at mile one and two
Post race food and drink
Store will be open after the race
Road Mile
Starts at James Weldon Park – Downtown
Mile is run in four heats starting at 4:30 PM.  See schedule above
Two loops of a half-mile course  Course Map
Post- Race Celebration and Awards Ceremony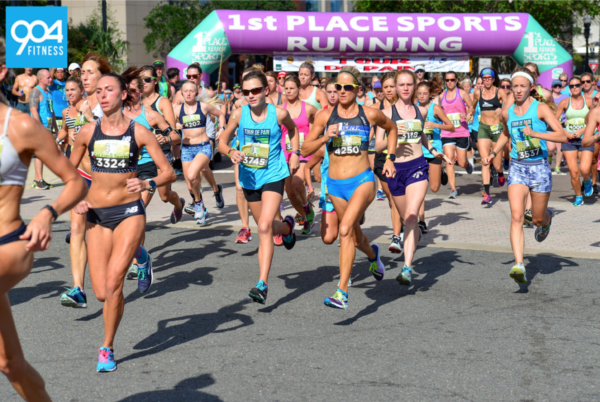 Start of women open mile.
Starting Position
During registration please select your start position based on the pace you plan to average.
Expected pace is under 8 minutes per mile
Expected pace between 8 and 9 minutes per mile
Expected pace between 9 and 10 minutes per mile
Expected pace between 10 and 11 minutes per mile
Expected pace between 11 and 14 minutes per mile
Expected pace over 14 minutes per mile
Entry Fees
| | 4 Mile Beach Run | 5K | Road Mile | 3 Race Series |
| --- | --- | --- | --- | --- |
| Through June 30th | $30 | $30 | $30 | $80 |
| July 1st until July 22nd | $35 | $35 | $35 | $85 |
| July 23rd- August 3rd | $37 | $37 | $37 | $90 |
| Day of Race | $40 | $40 | $40 | $90 |
Sorry, there are absolutely no refunds or deferrals!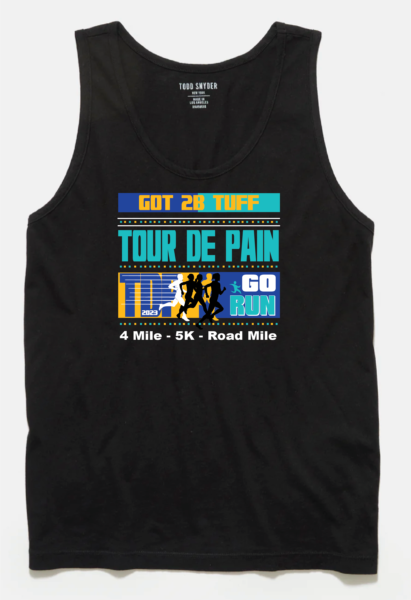 RACE INSTRUCTIONS
RACE INSTRUCTIONS WILL BE EMAILED TO YOU.
You will receive race instructions the week of the event. These will include your assigned race bib number and your selected pickup location where you will need to pick up your race packet.  The email will also contain updated information for the event including parking instructions. Be sure that our 1st Place Sports emails are not going to your junk folder to ensure that you receive this important email.
Packet Pickup
Packets will be available for pick up at your selected 1st Place Sports location on Thursday, August 3rd from 10:00 AM – 6:00 PM and Friday, August 4th from 10:00 AM – 2:00 PM. Packets will also be available starting at 5:30 PM at the Jax Beach Seawalk Pavilion.
Baymeadows Store: 3931 Baymeadows Road, Jax, FL 32217
San Marco Store: 2018 San Marco Blvd., Jax, FL 32207
Tapestry Park Store: 9823 Tapestry Park Circle, Jax, FL 32246
Jax Beach Store: 424 S. 3rd Street, Jax Beach, FL 32250
210 Store: 2220 SR 210 West, St Johns, FL 32259
Awards
Series Awards
Male & Female
1st Place Overall  – $300
2nd Place Overall – $200
3rd Place Overall – $100
1st Place Masters – $100
Prize money double dipping is allowed.  What is double dipping?  A masters prize money winner can also win overall prize money.
Age-group awards  (Series only) will be given to the top three finishers in each age division based on total time for all three events: 10 & under, 11-13, 14-19, 20-24, 25-29, 30-34, 35-39, 40-44, 45-49, 50-54, 55-59, 60-64, 65-69, 70-74, 75-79, & 80 and over.
Awards Ceremony after last event at James Weldon Johnson Park starting at 5:30 PM
Finisher Medals will be given to all those who finish all three races.  Medals will be distributed at the finish of the mile run.
Post Race Celebration
Water, Fruit and popsicles will be available after you finish except for the beach run.  We will just have water and fruit at the beach.
Beer Garden
We will have free beer after the last event.  Beer must remain inside the park.
Jacksonville Grand Prix Race

This is an official Jacksonville Grand Prix event.  Runners who finish in the top ten of their age group will receive points to be counted in the overall series. Over $5,000 in cash and prizes will be awarded at the end of the series. For more information about the Grand Prix, click here.