Tour de Pain – 5K Beach Run
Jax Beach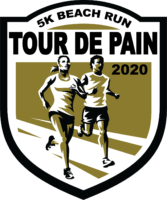 Saturday, August 22, 2020
5K on Saturday at 6:00 PM
---
About this Race
The Tour de Pain 5K Beach Run will be using the following Social Distancing Guidelines.
There will not be any day of race registration.
Day of race packet pickup will be limited. Please adhere to the 6 foot spacing guideline and wear a mask when picking up your packet.  We encourage you to pick up your packet prior to race day.
Please wear a mask when you can not adhere to the 6 foot spacing guideline.  We encourage everyone to wear a mask until you have started the run/walk. For your safety and the safety of other participants, we recommend that you wear a mask during the race.
Race will be started in waves of 50 people every ten minutes starting at 6 PM .  You must choose your starting wave during registration.
Once you have finished the race please respect the 6 foot social distancing spacing and wear a face covering.
The race will not have an awards ceremony or post-race celebration.  Awards can be picked up at awards tent.
Bring you own water if you need it on the course. We will have water in bottles at the start and finish.  If you take a water bottle with you, do not drop it on the beach.
Hand Sanitizers and Masks will be available at the Sanitation tent the start/finish.
If you feel ill or have a fever, do not come to packet pickup or to the race.
Race Features
RACE DETAILS
Social Distancing Guidelines will be in place
Finisher Medals
No Post-Race Celebration
Moisture Wicking Tank Tops to all Participants
Prize Money for top finishers
Age Group awards
Tour de Pain Beach Run will only be run this year!
Due to the Covid-19 Crisis we will only be having the Beach Run with the Tour de Pain this year.  The run will be a 5K on the beach starting and finishing at the Jacksonville Beach Seawalk Pavilion
Entry Fees
| | 5K Beach Run |
| --- | --- |
| Through August 15th | $25 |
| August 15th until August 21st | $30 |
| No Race Day Registration | |
Sorry, there are absolutely no refunds!
RACE INSTRUCTIONS
RACE INSTRUCTIONS WILL BE EMAILED TO YOU.
You will receive race instructions the week of the event. These will include your assigned race bib number and your selected pickup location where you will need to pick up your race packet.  The email will also contain updated information for the event including parking instructions. Be sure that our 1st Place Sports emails are not going to your junk folder to ensure that you receive this important email.
Register Now!
Online:
» Click Here to Register Online
Online registration closes a few days before the race. After online registration closes, you can still register at any 1st Place Sports store or on race day.
In person:
You can register at any of our 1st Place Sports stores on our in-store computers with no processing fee.
Packet Pickup
Packets will be available for pick up at your selected 1st Place Sports location on Thursday, August 20th from 10:00 AM – 6:00 PM and Friday, August 21st from 10:00 AM – 5:00 PM. Packets will also be available starting at 5:30 PM at the Jax Beach Seawalk Pavilion.  Social Distancing Guidelines will be in place.
Baymeadows Store: 3931 Baymeadows Road, Jax, FL 32217
San Marco Store: 2018 San Marco Blvd., Jax, FL 32207
Tapestry Park Store: 9823 Tapestry Park Circle, Jax, FL 32246
Jax Beach Store: 424 S. 3rd Street, Jax Beach, FL 32250
Awards
5K Awards
Male & Female
1st Place – $100
2nd Place – $75
3rd Place – $50
Age-group awards will be given to the top three finishers in each age division based on time from 10 & under, 11-13, 14-19, 20-24, 25-29, 30-34, 35-39, 40-44, 45-49, 50-54, 55-59, 60-64, 65-69, 70-74, 75-79, & 80 and over.
Age-group awards will be available at the awards tent after the race, but there will not be an awards ceremony
Finisher Medals will be given to all those who finish the 5K Beach Run
Post Race Celebration
Water and popsicles will be available after you finish.  There will not be a post-race celebration.
Jacksonville Grand Prix Race
This will be an official event on the 2020-2021 Grand Prix.  Series details coming soon!  Runners who finish in the top ten of their age group will receive points to be counted in the overall series. Over $5,000 in cash and prizes will be awarded at the end of the series. For more information about the Grand Prix, click here.