Run Santa Run 5K
Springfield - Klutho Park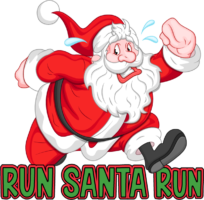 Saturday, December 16, 2023
Races start at 5:30 PM
---
About this Race
A Sight and Sound Christmas Experience!
Run Santa Run features a two loop 1.5 mile course filled with Christmas lights, inflatables, and music.  Participant will make their way from the start (Santa's Launch Pad) run through Hershey Kiss Kingdom,  the North Pole, Snowman's Paradise, Candy Cane Land, Rudolf's Rainbow Runway, Winter Wonderland,  and then finish in a blizzard of snow under a giant Santa Claus with bowlegs.  Hot chocolate and Christmas cookies will be served at the post-race. Don't miss this fun filled event!
The 5K is two 1.5 mile loops!
5:30 PM – One Mile Fun Run – runs through Candy Cane Lane, Hershey Kiss Kingdom, Rudolph's Rainbow Runway and finishes at Santa Bowlegs.
6:00 PM – 5K for runners who can finish under 30 minutes – anyone taking longer than 17 minutes to complete the first lap will not be allowed to run the second lap in this event since the second race cannot start until all the participants in the first race have finished.
6:30 PM – 5K for runners and walkers who will take longer than 30 minutes to finish
Race Features
Santa Suit for all participants to wear during the event.
Christmas lights, decorations and music through out the course
Custom finisher medals
Free Hot Chocolate
Santa Sack race packets
Overall and age-group awards
LED light necklace and reindeer antlers with lights available for purchase during registration
Purchase during registration: LED Necklace $7.00      Reindeer Antlers with LED lights  $10.00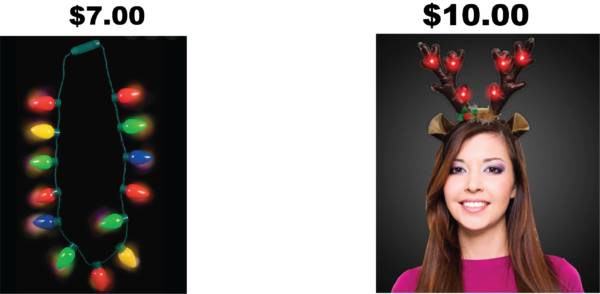 Entry Fees
| Distance | Through 10/31 | Nov. 1st - Nov. 30th | Dec. 1st- Dec. 15th | Race Day |
| --- | --- | --- | --- | --- |
| 5K | $35 | $40 | $45 | $50 |
| One Mile | $15 | $20 | S25 | $30 |
Sorry, No Refunds, deferrals or transfers.
Entry fees are valid until midnight on closing date.
You can also register in-person at any 1st Place Sports and save server and credit card fees.
Packet Pickup
During registration you will be able to select a convenient 1st Place Sports location to pick up your Santa Suit, Santa Sack and race goodies.  Packets may be picked up on Thursday, December 14th from 10 AM until 6 PM and on Friday, December 15th from 10 AM until 5 PM.
1st Place Sports Pick Up  Locations

Course
The 5K course is a two-loop 1.5 mile course packed with Christmas lights, inflatables, and Christmas music. The one mile is a partial loop.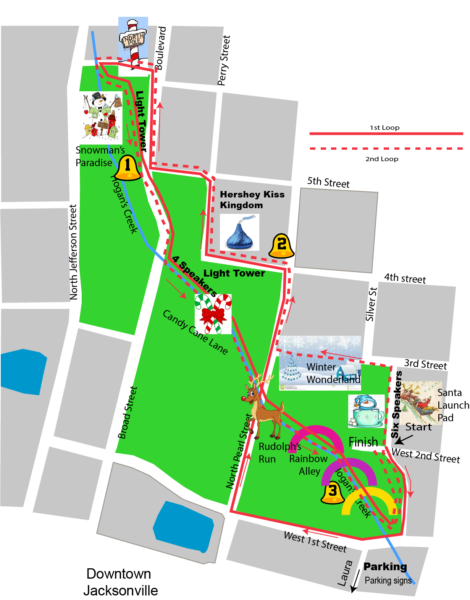 The Start – Santa's Launch Pad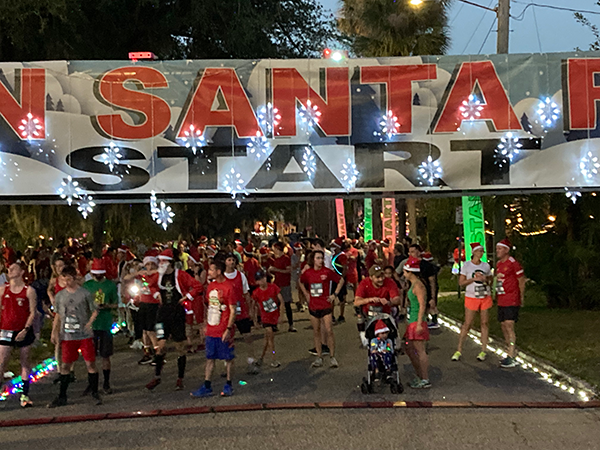 Christmas lights line the starting area including 10 foot tall lighted multi-color start icicles.  The starting line will have flashing lasers and continuous Christmas music
Hershey Kiss Kingdom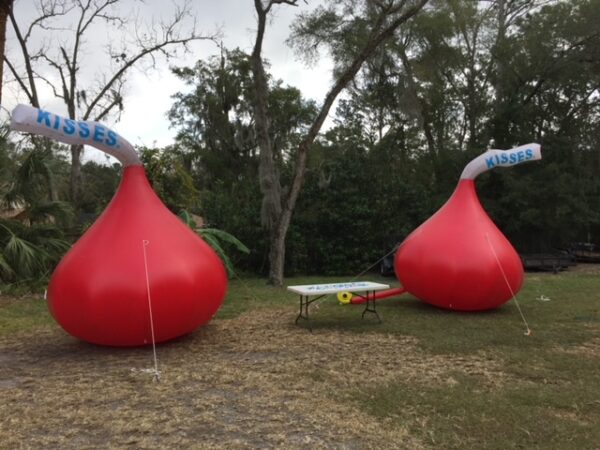 Stop in for a few Hershey Kisses  as you pass two giant Hersey Kisses, more music and lots of lights
Rudolph's Rainbow Alley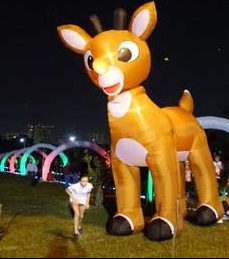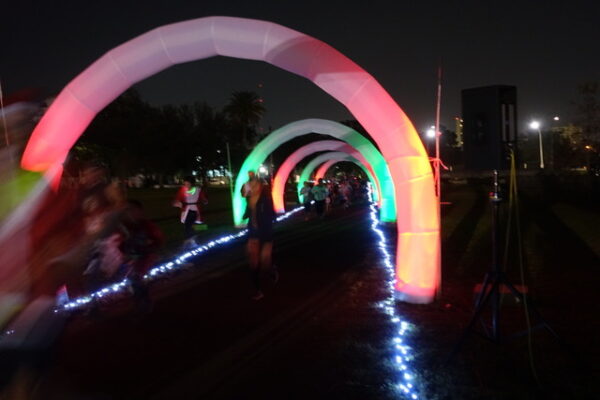 One quarter-mile of lighted rainbow arches and a giant Rudolph.  Lights along the ground the whole way and Christmas music.
The North Pole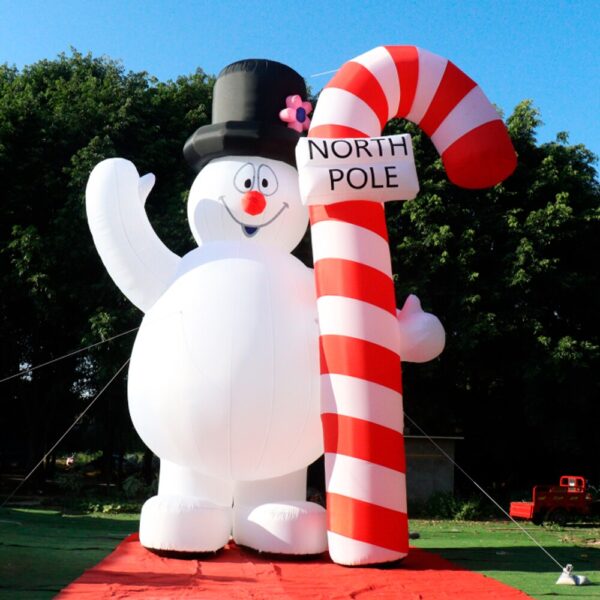 As you reach the northern most point of the course you will pass by a giant snowman with a large North Pole candy cane.
Snowman's Paradise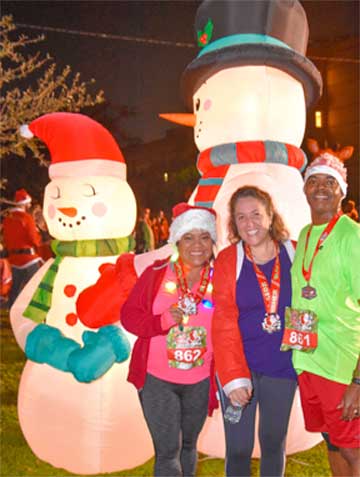 Participants will follow a Christmas lighted path through a field filled with snowmen of all shapes and sizes as Christmas music fills the air.
Candy Cane Lane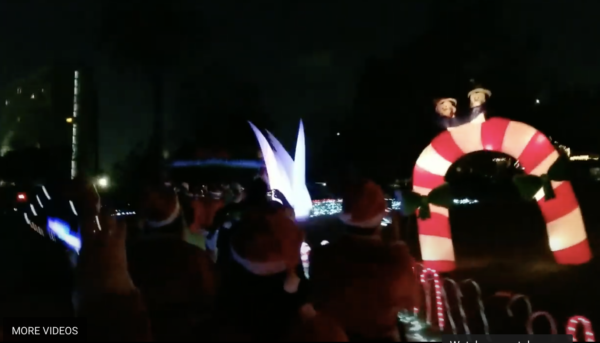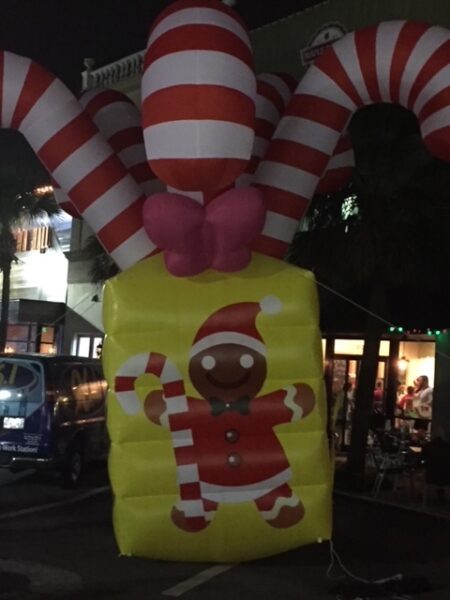 Two giant Candy Canes will greet you as you enter this magical area of alternating red and white lights, giant inflatables, music, and enchantment!
Winter Wonderland

You will run/walk under thousands of chasing lights as you pass through this mesmerizing section of the course. Music and a lighted path will lead you through this magical area.
The Finish – Santa Bowlegs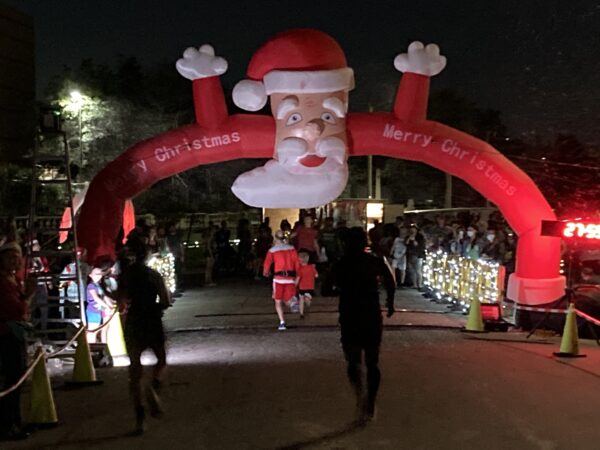 You will finish under a giant Santa with huge bow legs into a snow blizzard.  Make sure you get your custom designed finisher medal.
Awards
Awards will be presented to the top three men and women overall and to the top three male and female finishers in the following age groups: 10 and under, 11-13, 14-19, 20-24, 25-29, 30-34, 35-39, 40-44, 45-49, 50-54, 55-59, 60-64, 65-69, 70-74, 75-79 and 80 and over.
Custom designed medals to all finishers in the 5K and one mile.