RunJax Labor Day 5K
1st Place Sports, 3931 Baymeadows Road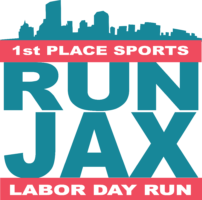 Monday, September 4, 2023
5K starts at 7:30 AM - One mile starts at 8:30 AM
---
Race Results
This race has ended. Check back soon for race results. 2023
About this Race
The Run Jax Labor Day 5K is run on a certified very fast course through the Beauclerc area of Jacksonville.  The race features prize money, large finisher medals, high quality running tops, electrolyte popsicles.  Run Jax is an official event on the Jacksonville Grand Prix.
To Benefit
Funds go to support high school cross country and track programs in Duval county and the summer camp scholarship program. 1st Place Sports is also helping raise funds to help build and maintain a three-mile running/walking trail in the new Aterro Recreation Park on Sunbeam Road.
Jacksonville Grand Prix Race

Jacksonville's Best Running Events
This event is a race on the Jacksonville Grand Prix schedule. Runners who finish in the top ten of their age group will receive points to be counted in the overall series. Over $5,000 in cash and prizes will be awarded at the end of the series. For more information about the Grand Prix, click here.
Race Features
Finisher Medals
Post-Race Celebration and awards ceremony
Live results
Technical tank tops or Unisex shirts to all Participants
Age Group awards
Prize money $150, $100 and $50 to the top three men and women overall.
Store will  be open for Labor Day sale
Jacksonville Grand Prix Event
Entry Fees
| | 5K | 5K under 18 over 65 | One mile |
| --- | --- | --- | --- |
| Through June 30th | $30 | $20 | $12 |
| July 1st - July 31st | $35 | $25 | $12 |
| August 1st to September 3rd | $40 | $30 | $12 |
| Race Day, September 4th | $50 | $50 | $12 |
$10 age discounts for 17 and under and 65 and over will be automatically applied during registration.
Sorry, there are no refunds or deferrals for this event.
Start Based on Pace
During registration you will be asked to indicate the pace per mile that you plan to run.  Please line up at the starting line based on that pace.  Place flags will be placed along the staring line.  Please line up behind the flag closest to the pace you plan to run/walk.
RACE INSTRUCTIONS
RACE INSTRUCTIONS AND LAST MINUTE INFO WILL BE EMAILED TO YOU.
You will receive race instructions by email the week of the event. These will include your assigned race bib number and your selected pickup location where you will need to pick up your race packet.  The email will also contain updated information for the event including parking instructions. Be sure that our 1st Place Sports emails are not going to your junk folder to ensure that you receive this important email.
Register Now!
Online:

Online registration closes the day prior to the beginning of packet pickup. After online registration closes, you can still register in any 1st Place Sports store or on race day.
In person:
You can register at any of our 1st Place Sports stores on our in-store computers and avoid server and credit card fees.
Packet Pickup
Packets will be available on Friday, September 1st (10 AM until 6 PM) and Saturday, September 2nd (10 AM until 5 PM)  at your selected 1st Place Sports location. Unclaimed packets will be available on race day starting one hour before the event start time.  Please select your pickup location during registration.
| | |
| --- | --- |
| Baymeadows Store: | 3931 Baymeadows Road, Jax, FL 32217 |
| San Marco Store: | 2018 San Marco Blvd., Jax, FL 32207 |
| Tapestry Park Store: | 9823 Tapestry Park Circle, Jax, FL 32246 |
| Jax Beach Store: | 424 S. 3rd Street, Jax Beach, FL 32250 |
| 210 Store: | 2220 sR 210, St Johns, FL 32259 |
Start and Finish
5K will start on Baymeadows Road in front of 1st Place Sports at 7:30 AM
The One Mile Fun Run will start at the 5K finish at 8:30 AM.
The 5K and one mile will finish behind 1st Place Sports.
Course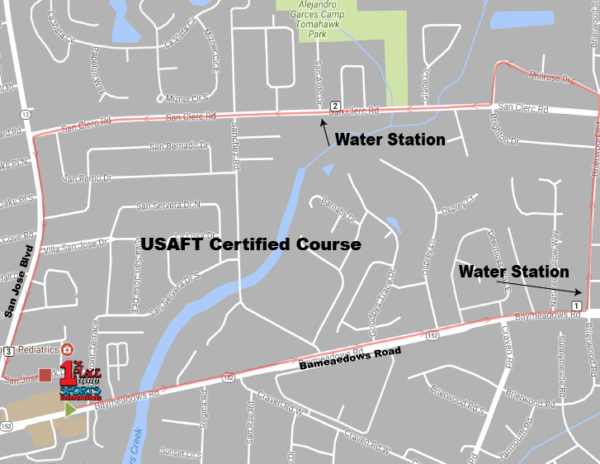 Awards
Awards Ceremony
Held in front of 1st Place Sports starting at 8:30 AM
Finisher Medals
All participants will receive custom finisher medals.
Prize Money
Prize money $150, $100 and $50 to the top three men and women overall.
Age Group Awards
Awards will be given to the top three male and female finishers in age groups from 10 and under, 11-13, 14- 19, 20-24, 25-29, 30-34, 35-39, 40-44, 45-49, 50-54, 55-59, 60-64, 65-69, 70-74, 75-79 & 80 and over!