VyStar Emerald Trail 5K and 10K Run/walk and Ride
To be determined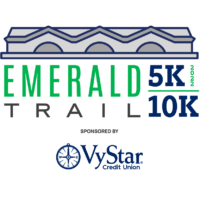 Saturday, September 30, 2023
5K & 10K biking starts at 4:00 PM - 5K & 10K run/walk starts at 5:00 PM
---
About this Race
The 3nd annual VyStar Emerald Trail 5K and 10K presented by JTC Running and 1st Place Sports will take runners, walkers and cyclists along the LaVilla Link, the first segment of the Emerald Trail that will be complete later this year. You'll also see points of interest along the S-Line Rail Link including the warehouse district, the Sugar Hill Mosaic, and the Biodiversity Corridor. All proceeds from this event benefit Groundwork Jacksonville, the City's nonprofit partner in building the Emerald Trail and restoring McCoys Creek and Hogans Creek.
The Emerald Trail is a 30-mile urban trail and linear park system that will connect 14 historic neighborhoods to downtown, the St. Johns River, McCoys Creek and Hogans Creek. It will link 16 schools, two colleges and 21 parks among other destinations like cafes, shops, festivals, and events.
As Jacksonville's signature recreational amenity, the Emerald Trail will be the place where people of all ages, races, cultures and walks of life come together to run, walk, ride and connect with nature and with one another. Learn more at groundworkjacksonville.org or follow @GroundworkJax.
About The Title Sponsor

Headquartered in Jacksonville, VyStar is a not-for-profit, member-owned credit union serving anyone who lives or works within its service areas stretching from Central Florida through Georgia. VyStar offers a full range of banking and loan services for individuals, families, and businesses, along with an array of services that includes investments, insurance, retirement planning, and financial counseling to help members reach their financial goals.
With more than 830,000 members, over $13 billion in assets and over 2,000 employees, VyStar makes the communities it serves stronger by giving back — from revitalizing urban neighborhoods to supporting our military. In 2021, VyStar gave more than $6.8 million in community support to 300-plus nonprofit organizations.
About The Presenting Sponsor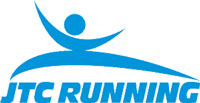 Established in 1975, JTC Running is North Florida's premier track club. JTC is dedicated to promoting health and fitness through running and walking. Helping build and maintain running trails is a priority for the club. That is why we are proud to underwrite all race expenses to ensure that 100% of entry fees and sponsorships support Groundwork Jacksonville and its efforts to build the Emerald Trail. For more information about JTC Running please click HERE.
Charities
Groundwork Jacksonville's mission is to bring about the sustained regeneration, improvement and management of the physical environment by developing community-based partnerships which empower people, businesses and organizations to promote environmental, economic and social well-being. Groundwork Jacksonville is one of 22 Groundwork USA trusts in the country and the only trust in Florida.
Learn more at GroundworkJacksonville.org or follow @GroundworkJax
Race Features
5K and 10K Bike Ride for fun – 4:00 PM
5K and 10K Run/Walk – 5:00 PM
Custom designed Emerald Trail shirts to all entrants
Custom designed medals to all finishers
Chip timing for run/walk
Live results
Pre and post-race activities
Staying Safe - Social Distancing Guidelines
We will follow CDC guidelines that are in place at the time of the event.  Please be aware that the pandemic is not over and there is currently a surge in Covid cases in our area. Updated guidelines will be included in your race instructions.
Start and Finish
Starts and finishes on Monroe Street near the intersection of Broad Street.
The bike 5K and 10K ride will start at 4 PM. This is a fun ride and is designed to be a tour of the Emerald Trail.  This event is perfect for a family fun ride.
The 5K and 10K run/walk will start at 5:00 PM.  
Entry Fees
| | 5K, 10K & Bike | Under 13 & over 65 |
| --- | --- | --- |
| Early Bird pricing through August 31st | $30.00 | $20.00 |
| September 1st-October 14th | $35.00 | $25.00 |
| October 15th-October 21st | $40.00 | $30.00 |
| Day of Event Registration | $50.00 | $40.00 |
Sorry, there are absolutely no refunds or transfers!
Parking
Free street parking and paid garage parking is available.  If you park on the streets near the courthouse, please do not park on the streets used for the race.  Additional parking information will be included in the race instruction email that will be sent to participants prior to the event.
Packet Pickup
Race Packet Pickup
Look up your assigned race bib number and pickup location.
Packet pickup has been cancelled at the following locations:
1st Place Sports – 2220 SR 210, St Johns
1st Place Sports – 9823 Tapestry Park Circle
VyStar -Nocatee location
VyStar – Northside location
Packets scheduled to be picked up at the above locations will now be at 1st Place Sports, 3931 Baymeadows Road or can be picked up on race day.
Packet Pickup will be Thursday and Friday from 10 AM until 5 PM at the following locations:
1st Place Sports – 3931 Baymeadows Road
1st Place Sports- 2018 San Marco Blvd
1st Place Sports – 424 South 3rd St. Jacksonville Beach
VyStar –  182 Blanding Blvd, Orange Park Branch
VyStar – 4220 Wabash Ave, Ortega Branch
Race Day – 3:30 PM until 4:45 PM – Pickup at Duval Country Courthouse
Race Instructions
RACE INSTRUCTIONS WILL BE EMAILED TO YOU.
You will receive race instructions the week of the event. These will include your assigned race bib number and your selected pickup location where you will need to pick up your race packet.  The email will also contain updated information for the event including parking instructions. Be sure that our 1st Place Sports emails are not going to your junk folder to ensure that you receive this important email.
Awards
10K Run Awards – Top male and female overall, top masters male & female and 3 deep in the following age divisions: 19 and under, 20-29, 30-34, 35-39, 40-44, 45-49, 50-54, 55-59, 60-69, 70 and over
5K Run awards will be presented to the top man and woman overall, and the top two finishers in each of the following male and female age groups: 10 & under, 11-13, 14-19, 20-24, 25-29, 30-34, 35-39, 40-44, 45-49, 50-54, 55-59, 60-64, 65-69, 70-74, 75-79, 80+.
Awards ceremony will be held at 6 PM in front of the Courthouse in the post-race area.
Custom finisher medals for all participants!
Course
Point 1 is the turn-around for the 5K and point 2 is the turn-around for the 10K.
You can view mile makers by clicking the icon above 3D when you view the map.