Celebration 5K
1st Place Sports, 3931 Baymeadows Road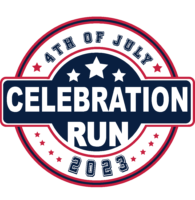 Tuesday, July 4, 2023
5K at 7:30 AM | 1 Mile at 8:30 AM
---
About this Race
This is the first race of the 2023-2024 Grand Prix season
See Jacksonville Grand Prix details below.
The Celebration Run is a wonderful way for the entire family to start the holiday.  This run features moisture wicking shirts to all participants, custom designed medals to all 5K finishers and 1st Place Sports fun run medals to all mile finishers.  After the race, stick around and enjoy the watermelon festival.  There will be loads of watermelon to eat and drawings for prizes. Post-race food will also include bananas and popsicles.  Prize money to top finishers and three deep age-group awards for each 5 year category.
To Benefit
Funds go to support high school cross country and track programs in Duval county and the summer camp scholarship program.
Carry An American Flag during the Race
Show your support for our country and military by carrying either a large or small flag during the race.  We will supply the flags at the starting line.  You can check the flag carrying box during registration to reserve a flag.
Entry Fees
| | | | |
| --- | --- | --- | --- |
| | 5K | 1 Mile | 5K - 13 and Under and 65 and over |
| Through May 31st | $30 | $10 | $20 |
| June 1st - June 30th | $35 | $10 | $25 |
| July 1st -July 3rd | $37 | $10 | $27 |
| Day of Race | $40 | $10 | $40 |
Sorry, there are absolutely no refunds, deferrals, or transfers!
Register Now!
Online Registration:
» Click Here to Register Online
Online registration closes early. After online registration closes, you can still register in any 1st Place Sports store or on Race day. By signing up late, you are not guaranteed a shirt at packet pickup or on race day.
In person:
You can register at any of our 1st Place Sports stores on our instore computers and save on server and processing fees.
Start
We will be starting in one wave.  You should line up based on the pace you plan to run.  Pace flags will be placed along the starting line. Please line up behind the flag that has the pace you plan to average for the entire distance.
Finishing the Race
The finish will be behind 1st Place Sports on  San Jose Park Drive.  The one mile fun run will start from the 5K finish at 8:30 AM. The one mile will also finish at the 5K finish.
Packet Pickup
Packets will be available for pick up at the 1st Place Sports you select during registration on Saturday, July 1st from 10:00 AM – 6:00 PM and Sunday, July 2nd during business hours, and on Monday, July 3rd from 10 AM until 4 Pm.  All unclaimed packets will be available at the race site for beginning at 6 AM.
Baymeadows Store: 3931 Baymeadows Road, Jacksonville, FL 32217  (904) 731-3676
Tapestry Park: 9823 Tapestry Park Circle, Jacksonville, FL 32246 (904) 260-9991
San Marco: 2018 San Marco Blvd, Jacksonville, FL 32207 (904) 399-8800
Jax Beach: 424 South Third Street, Jax Beach, FL 32250 (904) 270-2221
St Johns County: 2220 CR 210, St Johns, FL 32259 (904) 484-7641
Awards
Prize money  will be presented to the top three men and women overall ($200, $100, $50), first master's male and female overall ($50), and award plaques and a watermelon will be given to the top three in each of the following male and female age groups: 10 & under, 11-13, 14-19, 20-24, 25-29, 30-34, 35-39, 40-44, 45-49, 50-54, 55-59, 60-64, 65-69, 70-74, 75-79, 80+.
Prize money double dipping is allowed.  What is double dipping?  A masters prize money winner can also win overall prize money.
Finisher Medals: All participants in the 5K will receive a custom designed medal and 1 Mile Fun Run will receive a 1st Place Sports fun run finisher medal!
Parking
Parking is available in various lots surrounding 1st Place Sports.
Course
The Celebration 5K is a USATF certified 5K course. The course is very flat, has only a few turns, and has lots of shade in the last half of the route.
Watermelon Festival
After you finish the race stick around for the Watermelon Festival featuring lots of watermelon for everyone to eat, electrolyte popsicles, and other refreshments.  Each overall and age-group winner will receive a watermelon in addition to their regular award.
We will have a watermelon eating contest right before the awards ceremony.  Winner gets a 1st Place Sports gift certificate.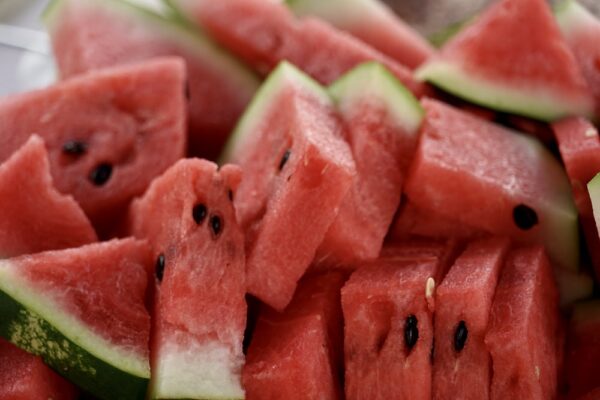 Sponsorship
1st Place Sports would love to have your company or organization as a sponsor of this or one of our other events during the year.  We can tailor a sponsorship to meet your promotional needs.
For more information, contact events@1stplacesports.com
Jacksonville Grand Prix Race

This event is the first race of the first half of the 2023-2024 Jacksonville Grand Prix schedule. Runners who finish in the top ten of their age group will receive points to be counted in the overall series. Over $5,000 in cash and prizes will be awarded at the end of the series. For more information about the Grand Prix, click here.
Email Communication
All communications including event promotions, bib number assignment, results problems, and runner instructions are done by email from 1st Place Sports. If you sign up for an event and do not receive an email from 1st Place Sports and want to receive them, please make sure that 1st Place Sports emails are not going to your junk mail.
Other Race Information
 Restrictions – Bikes and dogs are not allowed on the course under any circumstance. Biking next to a runner could lead to the runner being disqualified.
Results – will be available at 1stplacesports.com or on the 1st Place Sports app, which is a free download from your favorite app store.
Pictures – individual pictures will be taken during the race on the course and at the finish.  More information will be available in the race instructions that will be emailed to each registrant the week of the race.