Clay County Young Life "Hula Hustle" 5K & 1 Mile Fun Run
455 Park Avenue, Orange Park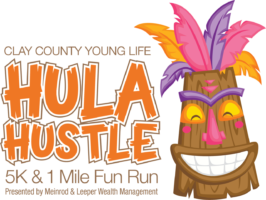 Saturday, May 8, 2021
5K at 8:00 AM | 1 Mile Fun Run at 9:00 AM
---
Race Results
This race has ended. Check back soon for race results. 2021
About this Race
Join us for the 9th Annual Clay County Young Life "Hula Hustle" 5K and 1-mile Fun Run. We are happy to announce that the Hula Hustle will be back live this year on River Road on May 8, 2021!  Due to current COVID restrictions, there will be some social distance changes, but we will do our best to keep the standards we have had in place for many years for this event.  All registered 5K runners will receive a finisher's medal and a t-shirt.
Young Life was founded in 1941 and is a world-class organization that thinks the world of kids. We enter the world of teens, focusing on what matters to them – fun, adventure, friendship and a sense of significance.
Your support of this event will help make a difference in the lives of hundreds of kids in Clay County. The proceeds from this race will benefit Clay County Young Life with their weekly gatherings for high school teens from Fleming Island High School, Orange Park High School and St. Johns Country Day School. It will also support our WyldLife program (junior high program), YoungLives program (teen moms) and our newest program called Capernaum (kids with disabilities).  Your support will also provide opportunities to send kids to summer camp.
There is a VIRTUAL option for those that may be interested. See registration options below.
Social Distancing Guidelines
Due to the current Covid crisis race entries will be limited and social distancing guidelines will be in place. We also have a virtual option if  you do not want to attend.
Race participation is limited and will be run in waves!
The following Social Distancing Guidelines will be in place during the event.
No day of race registration.
Day of race packet pickup will be limited. Please adhere to the 6 foot spacing guideline and wear a mask when picking up your packet.
Please wear a mask when you can not adhere to the six foot spacing guideline.  Everyone must wear a mask at the start and finish.
Race will be started in waves of 100 people.  You must choose your starting wave during registration. Potential award winners should try to run in the early starting waves.
Once you have finished the race please respect the six foot social distancing spacing and wear a face covering.
The race will not have an awards ceremony or post-race celebration.  Awards may be picked up at awards tent on race day or a 1st Place Sports, Baymeadows the day after the race.
Bring you own water if you need it on the course. We will have water in bottles at the start and finish, but will not have a water station on the course.  If you take a water bottle with you, be sure to hold on to it until you finish the race or drop off in trash cans at designated drop location.
Hand sanitizers and masks will be available at the Sanitation tent near the start/finish.
If you feel ill or have a fever, do not come to packet pickup or to the race.
To maximize social distance we recommend that you not arrive at the race more than 30 minutes prior to your start time.
Wave Start
Waves will start in groups of 100.  Start groups will be socially separated by 6 feet in all directions. Start waves will be 5 participants wide and 20 rows deep. Five runners are started every three to four seconds. Each wave will be started in two minute intervals.  You will register for one of the waves during registration.
Blue wave – 8:00 AM
Red wave – 8:02 AM
Green wave – 8:04 AM
Orange wave – 8:06 AM
Entry Fees
| | 5K | 5K Virtual | 1 Mile Fun Run |
| --- | --- | --- | --- |
| Through May 6th | $25 | $25 | $10 |
| May 7th - Day of Race | $30 | $30 | $10 |
Sorry, there are absolutely no refunds!
Register Now!
Online:
» Click Here to Register Online
Online registration closes early. After online registration closes, you can still register in any 1st Place Sports store or on Race day. By signing up late, you are not guaranteed a shirt at packet pickup or on race day.
In person:
You can register at any of our 1st Place Sports stores on our instore computers.
Packet Pickup
Packets will be available for pick up on Friday, May 7th from 10 AM until 5 PM at the 1st Place Sports Baymeadows store and from 11 AM – 5 PM at Grace Anglican Church (5804 US Hwy 17).
| | |
| --- | --- |
| Baymeadows Store: | 3931 Baymeadows Road, Jax, FL 32217 |
| Grace Anglican Church: | 5804 US Hwy 17 |
5K Course Map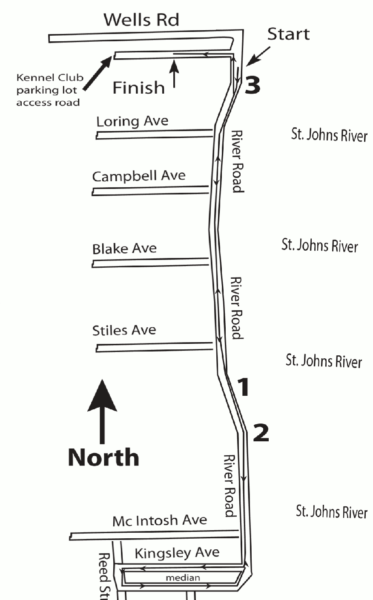 Restrictions
Bikes and dogs are not allowed on the course under any circumstance. Biking next to a runner could lead to the runner being disqualified.