Friends With Autism 5K and Walk
Jacksonville Landing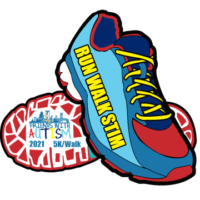 Saturday, May 15, 2021
5K at 8:00 a.m. | 1 Mile at 9:00 a.m.
---
About this Race
Join us in-person or online as we RUN, WALK, STIM! at the 3rd Annual Friends With Autism 5K /Walk on Saturday, May 15, 2021 in Downtown Jacksonville, FL!!
​Join us for the fun!

Join us for the community!

Join us to help the 1 in 59 with autism!

Join us to support the estimated 21,900+ families and people with autism in Northeast Florida!
The Friends With Autism 5K/Walk is more than just a Run and a Walk – it's a fun time for the entire community to come together and raise awareness, acceptance, and support for families and people on the autism spectrum in Northeast Florida!
​In light of the COVID-19 pandemic, you can choose to attend the Friends With Autism 5K/Walk event via virtual or in-person.
We hope you join us to help us raise awareness, acceptance, and support for those on the autism spectrum!
Social Distancing Guidelines
Due to the current Covid crisis race entries will be limited and social distancing guidelines will be in place. We also have a virtual option if  you do not want to attend.
Race participation is limited and will be run in waves!
The following Social Distancing Guidelines will be in place during the event.
No day of race registration.
Day of race packet pickup will be limited. Please adhere to the 6 foot spacing guideline and wear a mask when picking up your packet.
Please wear a mask when you can not adhere to the six foot spacing guideline.  Everyone must wear a mask at the start and finish.
Race will be started in waves of 100 people.  You must choose your starting wave during registration. Potential award winners should try to run in the early starting waves.
Once you have finished the race please respect the six foot social distancing spacing and wear a face covering.
The race will not have an awards ceremony or post-race celebration.  Awards may be picked up at awards tent on race day or a 1st Place Sports, Baymeadows the day after the race.
Bring you own water if you need it on the course. We will have water in bottles at the start and finish, but will not have a water station on the course.  If you take a water bottle with you, be sure to hold on to it until you finish the race or drop off in trash cans at designated drop location.
Hand sanitizers and masks will be available at the Sanitation tent near the start/finish.
If you feel ill or have a fever, do not come to packet pickup or to the race.
To maximize social distance we recommend that you not arrive at the race more than 30 minutes prior to your start time.
Virtual Option
If you can't make it to the event, we do have a virtual option.
Once you have registered, just run or walk the 5K or 10K distance and send us your time (you can run/walk the distance anytime and anywhere).  If you have a GPS watch or a cell phone, take a picture of the distance and time and send to results@1stplacesports.com. Otherwise just email us your time.  Once we have your results, you can pick up your shirt and medal at 1st Place Sports, 3931 Baymeadows Road at a later date.
Wave Starts
Waves will start in groups of 100.  Start groups will be socially separated by 6 feet in all directions. Start waves will be five participants wide and 20 rows deep. Five runners are started every three to four seconds. Each wave will be started in two minute intervals.  You will register for one of the waves during registration.
Email Communication
All communications including event promotions, bib number assignment, results problems, and runner instructions are done by email from 1st Place Sports. If you sign up for an event and do not receive an email from 1st Place Sports and want to receive them, please make sure that 1st Place Sports emails are not going to your junk mail.
Entry Fees
| | | | |
| --- | --- | --- | --- |
| | 5K | 1 Mile Fun Run 12 and Under | 1 Mile Fun Run 13 and Over |
| Through April 30th | $25 | $10 | $20 |
| May 1st - May 14th | $30 | $10 | $20 |
| Race Day | $35 | $10 | $20 |
Sorry, there are absolutely no refunds or transfers!
Register Now!
Online Registration:
» Click Here to Register Online
Online registration closes early. After online registration closes, you can still register in any 1st Place Sports store or on Race day. By signing up late, you are not guaranteed a shirt at packet pickup or on race day.
In person:
You can register at any of our 1st Place Sports stores on our instore computers.
Fundraising
Fundraising and donating has its perks…The Friends With Autism 5K and Walk benefits Northeast Florida families, people on the autism spectrum, schools, and helps MS4A fulfill its mission and vision.  When we raise awareness here…  Funds raised will stay here!  Funds raised will be returned to our community to provide direct services in the form of grant support/assistance, free Sensory Bags to students and schools, community inclusion/accessibility, and programs/services for local families and people with autism.   Donate or Start your Individual/Family, School, or Corporate Team!
DONATE:  Not interested in starting a team?  Click here to donate
INDIVIDUAL/FAMILY TEAMS raising the minimum fundraising amounts receive a Friends With Autism grant to cover the cost of:  assessments/evaluations, school tuition, home/private school: supplies/equipment/software, therapy, assistive technology, adaptive equipment, medical copays, medical services, summer camp, tutoring, and more!!
$2500 and up – $1,000
$1500 to $2499 – $500
$1000 to $1499 – $250
The top three SCHOOL TEAMS fundraising over $2,500 will receive a MS4A Deluxe Sensory Bags for their classrooms:
1st Place – 10 bags
2nd Place – 5 bags
3rd Place – 2 bags
The top three CORPORATE TEAMS fundraising over $2,500 will receive a MS4A Deluxe Sensory Bags donated to the school of their choice:
1st Place – 10 bags
2nd Place – 5 bags
3rd Place – 2 bags
Individual and Team fundraising registration opening shortly via Fundly.  *** All fundraising balances raised in 2020 on Fundly/Facebook for this race will be added to new 2021 Team balances.  All Sensory Bags will be delivered August 2021 to schools and students in Northeast Florida.
Packet Pickup
Packets will be available for pick up at the 1st Place Sports Baymeadows store location on Friday, May 14th from 10:00 AM – 5:00 PM. All packets will be moved to the race site for raceday pick up beginning an hour before the race.
Baymeadows Store: 3931 Baymeadows Road, Jacksonville, FL 32217
Post Race Celebration
Make sure you come early and/or stick around for the Pre, Post, and Online event activities:  onsite/online health & resource fair, music, children's activities, character appearances, speakers, and so much more!  The health & resource fair of this event is open and free to the public.  We ask all attendees to wear mask at Pre and Post Event activities.
Awards
Top three men and women overall, Top master female & male, Top three finishers male & female in each catagory:  9 & under, 10-12, 13-19, 20-29, 30-39, 40-49, 50-59, 60-69, 70-79, 80+.
5K Finishers will receive a T-shirt and Medal.
One-Mile Finishers children receive Medal and all participants receive a T shirt!
Sponsorship and Vendors
Sponsorship and vendor opportunities are available.  Email info@makingstridesforautism.org.
Vendor opportunities are available for both the onsite and online Resource Fair.
*** Onsite vendor spaces are limited due to COVID guidelines.
Course Restrictions
Bikes and dogs (unless service dog) are not allowed on the course under any circumstance. Biking next to a runner could lead to the runner being disqualified.