Tour de Pain
Jax Beach, Baymeadows, Downtown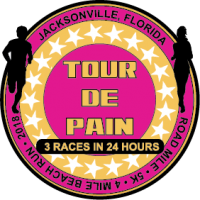 Friday, August 3, 2018
4 Mile on Friday at 6:30 PM | 5K on Saturday at 7:00 AM | Mile Sizzler on Saturday at 4:30 PM
---
About this Race
RACE DETAILS
Finisher Medals
Huge Post-Race Celebration with Free Beer
Moisture Wicking Shirts to all Participants
Prize Money for series
Age Group awards for series
RACE SERIES
This race series is designed to test your ability to run three different races in a twenty-four hour period. Your time in each of the three events will be added together to determine your place for the Tour de Pain. If that doesn't appeal to you, just pick one race and sign up for that one individually.
Entry Fees
| | Single Race | 3 Race Series |
| --- | --- | --- |
| Through June 30th | $25 | $60 |
| July 1st - July 31st | $30 | $65 |
| August 1st - Day of Race | $35 | $75 |
Sorry, there are absolutely no refunds!
Important!  – We use email to confirm your entry and to send race instructions.  Make sure that our emails are not ending up in you junk mail!
Friend Get Friend $5.00 Refund Program
When you register online you will receive a unique code in your confirmation email. Pass that code along to friends and tell them to use the code when registering and you will receive a $5 refund each time someone registers using your code.  You can have your full entry fee refunded using this program. Invite your friends now!
Register Now!
Online:
» Click Here to Register Online
Online registration closes early. After online registration closes, you can still register in any 1st Place Sports store or on Race day.
In person:
You can register at any of our 1st Place Sports stores on our in-store computers with no processing fee.
Packet Pickup
Packets will be available for pick up at your selected 1st Place Sports location on Thursday, August 2nd from 10:00 AM – 6:00 PM and Friday, August 3rd from 10:00 AM – 1:00 PM. Race packet pickup and registration will be held at each race site at least one hour before the start of that race for those doing only single events.
Baymeadows Store: 3931 Baymeadows Road, Jax, FL 32217
San Marco Store: 2018 San Marco Blvd., Jax, FL 32207
Tapestry Park Store: 9823 Tapestry Park Circle, Jax, FL 32246
Jax Beach Store: 424 S. 3rd Street, Jax Beach, FL 32250
Orange Park Store: 2186 Park Avenue, Orange Park, FL 32073
Awards
Awards will not be given for each individual event. They will be given based on total time in all three events.
Male & Female
1st Place – $250
2nd Place – $150
3rd Place – $100
Age-group awards will be given to the top three finishers in each age division based on time from 10 & under, 11-13, 14-19, 20-24, 25-29, 30-34, 35-39, 40-44, 45-49, 50-54, 55-59, 60-64, 65-69, 70-74, 75-79, & 80 and over.
Finisher Medals will be given to all those who finish all three events! They will be given out at the finish of the last race.
Post Race Celebration
Free beer, Gatorade, and food will be served.
4 Mile Beach Run
Friday  |  6:30 PM
Out-and-back course. Race starts heading south. Registration and race day packet pickup will begin at 5:00 PM on the beach near the starting line.
5K Road Race
Saturday  |  7:00 AM
The 5K will be held in the morning at 1st Place Sports on Baymeadows Road. The course will be the same one used for the Celebration 5K and is USATF certified.
1 Mile Sizzler
Saturday  |  4:30 PM
One mile double loop. There will be four heats in the mile:
4:30 PM – Master's Men
4:45 PM- Open Men
5:00 PM- Master's Women
5:15 PM- Open Women