Community First Thanksgiving Distance Classic
Pickwick Plaza
9850 San Jose Boulevard, Jacksonville, FL, United States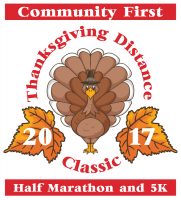 Thursday, November 23, 2017
Half Marathon @ 7:00 am | 5K & Turkey Trot 1 Mile @ 6:50 am
---
Race Results
This race has ended. Check back soon for race results. 2017
Entry Fees
| | Half Marathon | 5K | 1 Mile Turkey Trot |
| --- | --- | --- | --- |
| Through October 31st | $45 | $30 | $10 |
| November 1st - November 22nd | $50 | $35 | $12 |
| Day of Race | $60 | $40 | $15 |
Sorry, there are absolutely no refunds!
Help Those in Need!
» Please bring in a canned good as part of your entry fee or donate $1.00 when you register.
Discounted Entry:
» Senior and Youth Discount for 5K and Half Marathon: 65 and over and 13 and under receive a $10 discount when registering online. Enter the code below at your online checkout. Discount expires on November 1, 2017.
YouthSenior17DC
Register Now!
Online:
» Click Here to Register Online
Online registration closes early. After online registration closes, you can still register in any 1st Place Sports store or on Race day.
On paper or in person:
You can register at any of our 1st Place Sports stores on our instore computers.–>
Packet Pickup
Packets will be available for pick up at your selected 1st Place Sports location on Tuesday, November 21st and Wednesday, November 22nd from 10:00 AM – 6:00 PM. All packets will be moved to the Race Site for day of race pick up starting an hour before the event.
| | |
| --- | --- |
| Baymeadows Store: | 3931 Baymeadows Road, Jax, FL 32217 |
| San Marco Store: | 2018 San Marco Blvd., Jax, FL 32207 |
| Southside Store: | 9823 Tapestry Park Circle, Jax, FL 32246 |
| Jax Beach Store: | 424 S. 3rd Street, Jax Beach, FL 32250 |
| Orange Park Store: | 2186 Park Avenue, Orange Park, FL 32073 |
| St. Augustine Store: | 1000 S. Ponce De Leon Blvd., St. Augustine, FL 32084 |
Awards
HALF MARATHON AWARDS
Cash Prizes:
The following cash awards will be given out:
1st Place Male/Female Overall $500
2nd Place Male/Female Overall $300
3rd Place Male/Female Overall $200
1st Place Male/Female Masters $100
Age Group Awards:
Awards will also be given to the following age groups: 19 and under, 20-24, 25-29, 30-34, 35-39, 40-44, 45-49, 50-54, 55-59, 60-64, 65-69, 70-74, 75-79, 80+.
Finisher Medal
All Half Marathon and 5K participants will receive finisher medals!
5K AWARDS
All 5K finishers will receive a finisher medal at the finish line. There will not be awards for this distance.
HELP THOSE IN NEED!
A portion of each entry will be given to the Mandarin Food Bank. You can help too! Donate by bringing in a canned good when you pick up your race packet or make a $1.00 donation when you sign up. Thanks for your help!
TURKEY TROT, 1 MILE FUN RUN
Children participating in the Turkey Trot receive a shirt at packet pickup and a medal at the finish!
Course
Digital clocks will be located at the each mile and the finish. All miles and turns will be clearly marked. Traffic will be controlled by the Jacksonville Sheriff's Office. However, you should be aware that traffic will be on the course. Be careful for your own safety. There is a 3.5 hour course limit.
Half Marathon Course:
5K Course:
1 Mile Turkey Trot Course:
POST RACE PARTY
Free post race refreshments, fruit and bagels will be available right after the race in Pickwick Plaza parking lot. The awards ceremony will be held at 9:30 AM.
Training Class
The Fall 2017 Half Marathon Class is a 12-week program preparing individuals to participate in a half marathon this fall. The class starts on Thursday, September 7, 2017 at 1st Place Sports, Town Center Store (4870 Big Island Drive) at 6:30 PM (come prepared for a short run that evening). For more information and to register, click here.
HOTEL ACCOMMODATIONS
The Embassy Suites will serve as race headquarters. They are offering a special discounted rate to runners. The Embassy Suites is located just east of Interstate 95 on Baymeadows Road at 9300 Baymeadows Road, Jacksonville, Florida, 32256. Click here for reservations.
Grand Prix Race
This race is an event on the 2017-2018 Jacksonville Grand Prix schedule. Runners who finish in the top ten of their age group will receive points to be counted in the overall series. Over $5,000 in cash and prizes will be awarded at the end of the series. For more information about the Grand Prix, click here.