Course to Character Virtual 5k and One Mile Fun Run to Benefit First Tee – North Florida
Anywhere, Anytime - You choose your course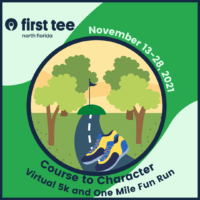 Saturday, November 13, 2021
Morning, Afternoon, Evening, Lunchtime
---
About this Race
Run, walk, jog, interval train, push a stroller, or run with the dog! Just in time for Thanksgiving and the Holidays! Create your own course, grab your headphones, and support First Tee – North Florida in a fundraising Virtual 5k and One Mile Fun Run. Multi-week timeframe between November 13 – November 28 means you choose when to complete your event! Fundraising teams, super cool swag, and you'll burn pre- or post-Thanksgiving calories! Fun for runners of all levels, walkers, families. You'll have your packets before you do your event – we want to see photos of you rockin' this run/walk with your event swag!
To Benefit
This event benefits First Tee – North Florida, which serves kids and teens across the seven-county North/Northeast Florida area, in the counties of Duval, St. Johns, Nassau, Clay, Flagler, Putnam and Volusia. First Tee – North Florida's mission is to impact the lives of young people by providing educational programs that build character, instill life-enhancing values and promote healthy choices through the game of golf. As the local chapter in the area, First Tee – North Florida offers character-building life and golf skills education classes, summer camps, tournaments, and Girls Golf, in addition to working with youth organizations and school districts. For more information about FTNF, visit the chapter website.
SOCIAL DISTANCING GUIDELINES
This is a Virtual Run/Walk – you choose where and when to complete your event.
RACE FEATURES
All 5k participants receive:
custom event tote bag
custom event technical shirt
finisher's medal
plus additional goodies
All One Mile Fun Run participants receive a custom event t-shirt.
Entry Fees
| | 5K | 1 Mile Fun Run 12 and Under | 1 Mile Fun Run 13+ |
| --- | --- | --- | --- |
| Through August 14th | $35 | $12 | $15 |
| August 15th - Race Day | $40 | $12 | $15 |
Sorry, there are absolutely no refunds!
Register Now!
Online:
» Click Here to Register Online
In person:
You can register at any of our 1st Place Sports stores on our in-store computers with no processing fee.
FUNDRAISING TEAMS
Fundraising teams are encouraged! Fundraise individually or as part of a team. Fundraising sign-ups included in the registration link.
Packet Pickup
November 8-10 at 1st Place Sports stores
• 1st Place Sports Baymeadows, Jacksonville
• 1st Place Sports Jax Beach
• 1st Place Sports CR210
November 11 through November 24:
• First Tee – North Florida chapter office, at World Golf Village, St. Augustine
Sponsorship
Sponsorship Opportunities are available, including Title Sponsor, and various  sponsorship levels. To obtain a sponsorship on behalf of your business, to make a sponsor donation, and for more information about sponsorships, please contact Linda Johnson at linda@firstteenorthflorida.org or 904-586-4854.
EMAIL COMMUNICATIONS
All communications will be handled through email. Please make sure to include your correct email address when registering. Please direct all communications regarding this event to Linda Johnson, Director of Community Outreach, First Tee – North Florida, at linda@firstteenorthflorida.org or 904-586-4854.
COURSE RESTRICTIONS
This is a Virtual Event. Participants decide where and when to run/walk the event during the timeframe of November 13-28, 2021. Participants are responsible for ensuring that the chosen location/course/route is in good and suitable condition. Neither First Tee -North Florida nor 1st Place Sports, or any of their employees, make any representations or warranties with respect to conditions of participants' selected locations/courses/routes.