Mt. Acosta Classic Endurance Race
Haskell: 111 Riverside Ave
111 Riverside Ave, Jacksonville, FL 32202, United States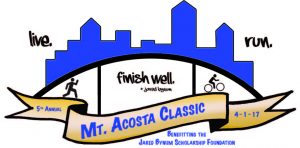 Saturday, April 1, 2017
4:30 PM
---
Race Results
This race has ended. Check back soon for race results. 2017
About this Race
MT. ACOSTA CLASSIC MISSION
This scholarship fund was established to help students who complete the mentoring program at Julia Landon College Preparatory and Leadership School, go on to finish high school in four years and are accepted to college. It will help them go to college and achieve their dreams. Jared believed in being an encouraging and supporting role model for the young students that were a part of the school's mentoring program. This scholarship focuses on those students who have overcome early childhood challenges and continued on through high school and to college. These students want to be something that they and their families can be proud of, something that brings joy to others.
A firm believer in supporting local establishments, Jared Bynum was also a large proponent of anything and everything local. This event gathers the local eating establishments and shops to come together as one and showcase all that Jacksonville has to offer. The support and presence of all the local establishments helps bring success to the Mt. Acosta Classic.
Register Now!
Individual Registration and Team Members:
» Click Here to Register Online
Corporate Team Registration:
Once someone creates a Team, the Team name will appear in a drop down box during online registration for Team Members to select.
Race Features
Objective is to run/bike as many loops as possible of the Acosta Bridge
Corporate Team Competition for teams of 3!
Technical shirts for all racers
Large and lively family Street Fair at start/finish
Refreshments and food samples from local restaurants
Entry Fees
| | | | | | | | |
| --- | --- | --- | --- | --- | --- | --- | --- |
| | 1 Hour Run | 1 Hour Bike (18 and Up) | 3 Hour Run | 3 Hour Bike (18 and Up) | 1 Run Lap | 3 Person Corporate Relay 3 Hour Run | Bike/Run |
| Through December 31st | $30 | $30 | $40 | $40 | $10 | $75 per team | $40 |
| January 1st - February 13th | $35 | $45 | $50 | $50 | $15 | $75 per team | $50 |
| February 14th - March 13th | $40 | $50 | $60 | $75 | $20 | $75 per team | $75 |
| March 14th - Raceday | $50 | $60 | $75 | $100 | $25 | $105 per team | $100 |
Sorry, there are absolutely no refunds!
In-Store Registration
You can register at any of our 1st Place Sports stores on our in-store computers.
Sorry, there are absolutely no refunds!
Corporate Relay Team Information
Compete as a three person Corporate Team in the three hour run event! Team members will alternate laps, allowing each member to run approximately one hour.
Biking Events
All participants in the biking events must be 18 or older. If not 18 or older, and still wanting to participate in one of the events, please send an inquiry to Marie Vogler at marie.vogler@haskell.com for exceptions.
Club Competition
This year there will be an award for the club with the most participants!
Registration Search
Search registrations to confirm your registration status:
In-store Registration Search: Click here
Online Registration Search: Click here
Packet Pickup
Packets will be available on Friday, March 31st from 10:00 AM – 6:00 PM at the 1st Place Sports Baymeadows location and City Cycle. Packets will be moved to Haskell beginning at 1:00 PM on Race Day for packet pick up.
Race Timing
The race will be timed using a Chip Timing System (chip must be worn on your shoe during the event). You must cross the timing mats to be included in the results.
Awards
Awards will be given to the top three men and women overall.
Course
Both races start and finish in front of the Haskell Building and do loops over the Acosta Bridge. Please line up according to your ability.