Moo-ve It 5K
Downtown Jacksonville
101 E Bay St, Jacksonville, FL 32202, United States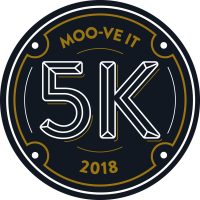 Saturday, March 3, 2018
1 Mile at 9:30 AM | 5K at 10:00 AM
---
About this Race
With The Cowford Chophouse officially open, we are thrilled to be hosting the second annual MOO-VE IT 5K on March 3, 2018. This family friendly event will consist of a one-mile fun run to begin at 9:30 a.m. and a 5K, which will start at 10 a.m. There will be a post-race party inside the Chophouse, which will include music, beer, and food. Additionaly, we will be honoring our generous sponsors with a VIP rooftop brunch reception. Medals will be given to all finishers and an award ceremony will follow the race completion. Each participant will receive a race bag with specialty items from our sponsors.
Charities
Proceeds from the MOO-VE IT 5K will benefit the Delores Barr Weaver Policy Center in their work as the Northeast Florida direct service provider for the Open Doors Outreach Network. Open Doors is a public-private partnership administered by Voices for Florida which improves care, coordination and outcomes for commercially sexually exploited and trafficked children and young adults up to age 24. Together and alongside survivors, the Open Doors team works 24/7/365 to support each survivor's well-being and connect them to appropriate resources to aid the recovery process. Funds raised will assist the organization in receiving a grant match for this program.
Run Club!
The Delores Weaver Policy Center and The Open Doors Outreach Network have many staff members who will be participating in the MOO-VE IT 5K. You have the unique opportunity to not only help the Cowford Chophouse raise funds for Open Doors, but to train bi-weekly for the 5K with a partner during the month leading up to race day. This will be an amazing opportunity to connect directly with members of the Open Doors Outreach Network and Policy Center while you support a great cause. If you are interested in completing the run with a partner from Open Doors, please mark your registration in the "I'd like to join the run club" portion of the registration form!
Entry Fees
| | | |
| --- | --- | --- |
| | 5K | 1 Mile |
| Through February 25th | $35 | $25 |
| February 26th - March 2nd | $40 | $25 |
| Day Of Race | $45 | $25 |
Sorry, there are absolutely no refunds!
Register Now!
Online:
» Click Here to Register Online
Online registration closes the day prior to the beginning of packet pickup. After online registration closes, you can still register in any 1st Place Sports store or on Race day.
In person:
You can register at any of our 1st Place Sports stores on our instore computers.
Packet Pickup
Packets will be available at your selected 1st Place Sports locations on Friday, March 2nd from 10:00 AM-6:00 PM. All packets that are not picked up at 1st Place Sports locations will be moved to the Race Site for race day pick up.
| | |
| --- | --- |
| Baymeadows Store: | 3931 Baymeadows Road, Jax, FL 32217 |
| San Marco Store: | 2018 San Marco Blvd., Jax, FL 32207 |
| Tapestry Park Store: | 9823 Tapestry Park Circle, Jax, FL 32246 |
Race Timing
The race will be timed using the Race Results Chip System .
Awards
Finisher medals will be awarded to 5K finishers!
Awards will be presented to the top three men and women overall and to the top master male and female finisher. Age group awards will be presented to the top three finishers in each of the following male and female age groups as follows: 10 and under, 11-13, 14-19, 20-24, 25-29, 30-34, 35-39, 40-44, 45-49, 50-54, 55-59, 60-64, 65-69, 70-74, 75-59, and 80+.
Course
The MOO-VE IT 5K course will take runners on a tour of recent Downtown development. The course will begin on Bay Street, near the base of the Main Street Bridge and just one block west of the Cowford Chophouse. Runners will pass the restaurant, turn left to run on Newnan Street, then run west toward the stadium district. After a short loop around Baseball Grounds of Jacksonville, runners will hoof it down Duval Street, pass the 3-mile mark on Adams Street, and finish strong at the Cowford Chophouse.
Post Race Celebration
There will be a post-race block party inside the Chophouse, which will include music, beer, and food for race participants. Additionally, silver and gold level sponsors will be honored with a VIP rooftop brunch reception after the race.
Sponsorship Opportunities
If your organization is interested in becoming a sponsor, click here to download the sponsor package.