Run for Heroes 5K
Riverside
Unity Plaza, Riverside Avenue, Jacksonville, FL, United States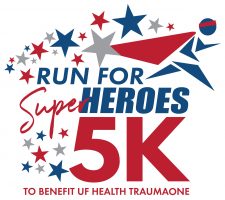 Saturday, September 30, 2017
5k at 6:00 pm | 1 Mile Fun Run at 5:30 pm
---
Race Results
This race has ended. Check back soon for race results. 2017
Join us!
UF Health TraumaOne is the region's only Level I adult and pediatric trauma center serving 30 counties in Northeast Florida and Southeast Georgia. The unit provides life-saving care to thousands of trauma victims each year, as well as, comfort and support for their families.   Unlike other hospitals in the area, trauma surgeons, nurses and other healthcare professionals in specialties including neurosurgery, oral and maxillofacial surgery, emergency medicine, orthopaedic trauma surgery and cardiothoracic surgery, are available on campus 24 hours a day, seven days a week.  This allows UF Health to provide immediate critical care to those in our community with life-threatening injuries or illnesses. Our UF Health heroes save lives, allowing those who have suffered from traumatic injury or illness and their families to return home, building healthy and strong communities.
UF Health TraumaOne's mission is not only to provide life-saving care to trauma patients; but to prevent injuries. Each year TraumaOne helps educate over 15,000 people in our community through its injury prevention programs.
Consider running today in honor of one of our Superheroes: An individual who has overcome a life-threatening injury and the many Heroes who stand ready each and every day protecting our community through expert trauma care.
Entry Fees
| | 5K | 1 Mile Fun Run |
| --- | --- | --- |
| Through September 22nd | $25 | $15 |
| September 23rd - September 29th | $35 | $15 |
| Day of Race | $40 | $20 |
Sorry, there are absolutely no refunds!
Register Now!
Online:
» Click Here to Register Online
Online registration closes early. After online registration closes, you can still register in any 1st Place Sports store or on Race day.
In person:
You can register at any of our 1st Place Sports stores on our instore computers with no processing fee.
Packet Pickup
Packets will be available for pick up at your selected 1st Place Sports locations on Friday, September 29th from 10:00 AM – 6:00 PM. All packets will be moved to the race site for raceday pick up beginning an hour before the race.
Baymeadows Store: 3931 Baymeadows Road, Jax, FL 32217
San Marco Store: 2018 San Marco Blvd., Jax, FL 32207
Town Center Store: 4870 Big Island Drive, Jax, FL 32246
Awards
Awards will be presented to the top three men and women overall, first master's male and female overall, and the top three in each of the following male and female age groups: 10 & under, 11-13, 14-19, 20-24, 25-29, 30-34, 35-39, 40-44, 45-49, 50-54, 55-59, 60-64, 65-69, 70-74, 75-79, 80+. Hats for top 10% finishers! Medals for all Fun Run finishers 12 and under!
Sponsorship Information
For Sponsorship information please contact the Kasey Metzler, UF Health Office of Development at 904-244-1061 or Kasey.Metzler@jax.ufl.edu.